Israeli Occupation Plans to Storm al-Aqsa on Eid al-Adha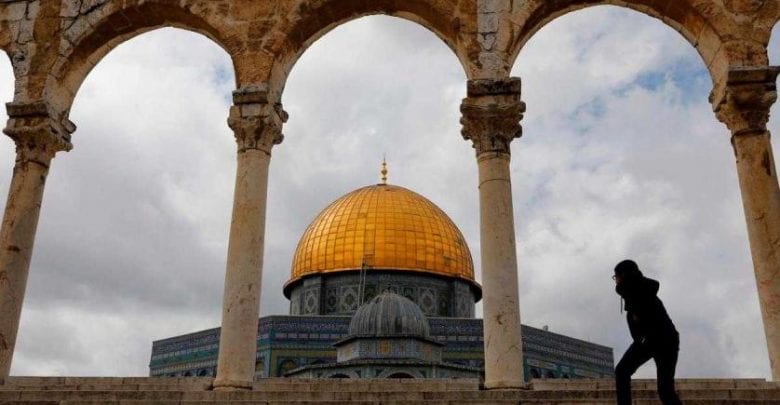 Jewish extremist and settler groups plan to storm the al-Aqsa mosque compound under the protection of occupation forces on the first day of Eid al-Adha which also marks the anniversary of the so called "Tisha Bav," warned President Mahmoud Abbas' adviser for religious affairs Mahmoud al-Habbash.
He stressed that the whole world should work to prevent this crime before it is too late, noting that such move could trigger religious strife in the region and have dangerous consequences.
Habbash asserted that the Palestinian people will protect al-Aqsa Mosque and its sanctity.
He called on all the Palestinian people who are able to reach al-Aqsa to attend Eid prayers and support Jerusalemites in protecting and defending the Mosque, stressing that the Palestinian leadership, headed by Abbas, is following up the developments with concern.
"We will do everything possible, together with our people, to protect al-Aqsa Mosque," he asserted.
Mufti of Jerusalem and Palestine Sheikh Mohammed Hussein announced that Eid al-Adha prayers at the Mosque will be at 7:30 am instead of 6:30, after the threats of occupation forces and settlers to storm the compound.
In his Friday sermon at the Mosque, Hussein urged all Palestinians to come to the Mosque on the first day of Eid, stressing that al-Aqsa is for Muslims only and that it is not subject to negotiations or bargaining.
In a joint statement signed by the Islamic Supreme Council, Council of Awqaf and Islamic Affairs and Holy Sites, and Hussein, Palestinian officials announced that all mosques in Jerusalem will be closed and that Eid prayers will take place in al-Aqsa.
Fatah movement urged the people to participate in the prayers at al-Aqsa, emphasizing its important status.
Meanwhile, dozens of Palestinians performed Friday prayers outdoors in a sit-in tent in Wadi al-Hummus, in occupied East Jerusalem, to protest Israel's demolition of several homes last month.
On July 22, Israel demolished 16 Palestinian-owned buildings in Sur Baher and displaced dozens of Palestinians in the process. The demolition sparked wide scale condemnation from Arab and other states.
Most of the demolished lands of Sur Baher are categorized within Area A under Palestinian sovereignty, according to the Oslo Agreement.