Egypt's Sisi Affirms Relations Between Gulf, Egyptian Security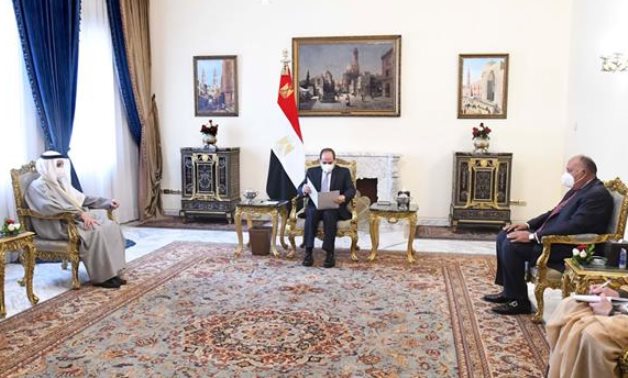 Egypt's Abdel Fattah El Sisi received a letter from Kuwait's Emir Sheikh Nawaf Al-Ahmad Al-Sabah, as he met on Saturday with the Kuwaiti foreign minister, Sheikh Ahmed Nasser Al-Sabah.
The letter extended the emir's greetings to Sisi and expressed the keenness to promote bilateral relations between Egypt and Kuwait, a statement by the Egyptian Presidency read.
Sheikh Nawaf also stressed keenness to strengthen cooperation with Egypt at various levels and enhance consultation and coordination on different issues.
The emir, in the letter, stressed that the Kuwaiti appreciation of the close and strong historical relations binding the two countries in various fields.
Sisi asked the Kuwaiti minister to convey greetings to the emir and offered his congratulations to the government and brotherly Kuwaiti people on Kuwait National Day.
Reconciliation
During his meeting with the Kuwaiti minister, Sisi expressed his deep appreciation for the Kuwaiti reconciliation efforts.
Sisi affirmed Egypt's unchangeable stance toward supporting Arab solidarity in a way that ensures solidarity in the face of risks to the Arab nation.
The agreement ended a boycott on Qatar by the Arab quartet of Egypt, Saudi Arabia, the United Arab Emirates and Bahrain, which had lasted from June 2017.
On 5 January 2021, the 41st Gulf Cooperation Council Summit at Al-Ula in Saudi Arabia has witnessed the signing of the Al Ula Declaration with Qatar, amid Kuwaiti mediation.
Last week, two official delegations from Egypt and Qatar held their first meeting in Kuwait to set mechanisms and procedures for the next phase, following the agreement.
The Kuwaiti minister, during the meeting praised Egypt's pivotal role in the region as the cornerstone of security and stability of the Arab world, the Presidency said.
He also praised Egypt's continuous keenness to strengthen solidarity among the Arab countries and promote the Arab joint action concerning various issues.
Bilateral ties, cooperation
During the meeting, Sisi confirmed Egypt's keenness to develop the strong and unique cooperation between both nations at all levels, seeking to consolidate security, stability and development regionally for the good of the peoples of both countries and the Arab nation.
Egypt's Minister of Foreign Affairs Sameh Shoukry and Kuwait's Ambassador to Egypt Mohammed Saleh Al-Thuwaikh attended the meeting.
"Both parties discussed various aspects of the bilateral relation and held consultations on the latest updates in the region," the Presidency said.
"Sisi reaffirmed the strong connection between the security of the Gulf States with Egypt' national security," the Presidency added.
The meeting agreed on intensifying consultation and coordination between both brotherly nations during the coming period in order to fend off threats to the security and stability of both Arab people and states.