Egypt's Sisi: Cairo rejects all foreign interference in Libyan affairs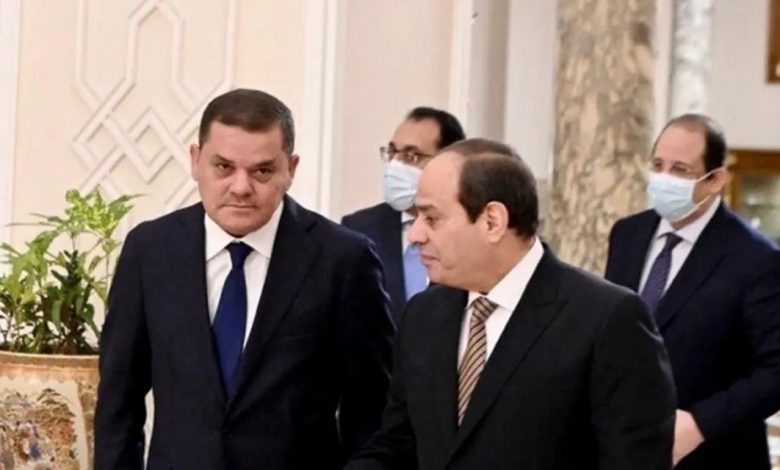 While Egypt continues its efforts to calm the differences between the Libyan parties, and prepare the path for the upcoming elections in December, Egyptian President Abdel Fattah El-Sisi received today, Thursday, the Prime Minister of the Libyan National Unity Government, Abdel Hamid Dabaiba, at the Federal Palace, after he had met two days ago with the Speaker of Parliament, Aqila. Saleh, and army commander Khalifa Haftar.
The Egyptian president assured his guest that Cairo rejects all foreign interference in Libyan affairs, stressing the importance of unifying the Libyan army to protect the people's capabilities.
"Egypt's Great Role"
For his part, Libyan Prime Minister Abdel Hamid Dabaiba said in a joint press conference with his Egyptian counterpart Mustafa Madbouly shortly after the meeting ended, that the presence of the Libyan government in Cairo is a regional message for Egypt's "large and great" role in the region.
He also added that the Egyptian president assured him that "Egypt will only be with the Libyan people."
In addition, the two officials witnessed the signing of a number of cooperation protocols between the governments of the two countries.
Madbouly stressed his country's keenness to provide all political and logistical support to Libya in order to successfully implement the road map.
The two sides also signed a document for cooperation in the agricultural field and an agreement in the field of industry.
A meeting between Dabaiba, Haftar and Saleh
Previous information had indicated to Al-Arabiya/Al-Hadath that Cairo was seeking to bring the Libyan parties closer together, by conveying the viewpoint of the Libyan Parliament Speaker and the Army Commander, to Dabaiba to bridge differences.
In addition, she clarified that the Egyptian efforts aim to remove the dispute between the three parties, so as to obtain a comprehensive reconciliation before the Libyan elections, stressing the need to establish it on time.
The sources also reported that Egypt is currently working on a meeting between Dabaiba, Saleh and Haftar, and that consultations are continuing to overcome differences.
He also indicated that Cairo seeks to fully unify all Libyan institutions before the elections.
It is noteworthy that despite the formation of a national government 6 months ago, under the supervision of the United Nations, disputes still persist between Dabaiba and Parliament, and were recently manifested through accountability sessions that were repeatedly postponed before being held again a few days ago.
The prime minister has also failed so far to unify the country's financial and security institutions, including the army's command.
While these differences persist, the international community stresses the need to respect the date of the elections that were agreed upon under UN supervision, and set for next December 24, in order to open a new page of popularly elected rule in the country.