Egypt's Sisi inaugurates world's largest water treatment plant in the world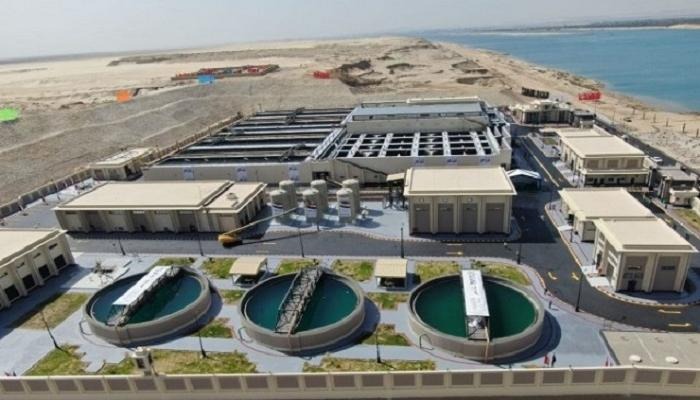 Egypt's President Abdel-Fattah El-Sisi inaugurated in the northern governorate of Port Said on Monday morning the water treatment plant of Bahr Al-Baqar, the largest of its kind worldwide.
The plant comes at a cost of EGP 20 billion and with a production capacity of 5.6 million cubic metres per day, presidential spokesman Bassam Rady said.
The triple-treated water from the Bahr Al-Baqar plant will be transferred to North Sinai to contribute to the reclamation of 476,000 feddans.
The plant is one in a series of national projects to develop Sinai and enhance the optimum use of water resources in the country, Rady added.
Prime Minister Mostafa Madbouly, ministers, and officials attended the inauguration ceremony.
El-Sisi inspected the Bahr Al-Baqar plant and inaugurated via video-conference water desalination plants in Sinai's Nuweiba, Ras Sedr, Abu Zenima, and Dahab cities, as well as pumping stations in Port Said and the Delta.
The armed forces play a role in securing Sinai's development projects against terrorism, he added.
El-Sisi said the state has to spend EGP 160 billion to reclaim 500,000 feddans in Sinai, noting that the reclamation of each feddan costs EGP 300,000.
The pipes used in the wastewater treatment plant of Bahr Al-Baqar were completely manufactured by Egyptians to generate more job opportunities and save the hard currency.
El-Sisi, during the ceremony, also ordered the government, and the army if necessary, to intervene to remove violating irrigation facilities on the environs of Nile canals nationwide within the coming six months.
He warned that that the government will deny violators access to subsidies on bread and other state services until the violations are removed.
Speaking at the ceremony, Prime Minister Mostafa Madbouly said the cost of the national projects to serve Sinai, either already completed or underway, have come at a cost of EGP 700 billion.
"With the completion of these projects, almost every part of the Sinai will have benefited from the development process and we will benefit from all the development capabilities available in Sinai as much as possible," Madbouly said.
Since 2014, the state has spent EGP 76 billion in the electricity sector as part of its efforts to develop Sinai, Madbouly said, adding that these efforts pave the way for the private sector and the investors to take part in Sinai's development.
The inauguration of the Bahr Al-Baqar plant is part of the national project to reclaim and cultivate more than 674,000 feddans in Sinai, of which nearly 200,000 feddans have already been cultivated.
Minister of Irrigation and Water Resources Mohamed Abdel-Ati said at the ceremony that the state's plan to cover the local water needs until 2050 will cost the state EGP 100 billion.
Arab Observer