Emir of Qatar starts Arab tour of Jordan, Tunisia and Algeria, his first foreign trip in 2020.
Gulf country's ruler arrived Amman for 2-day visit, his first to Jordan since outbreak of Gulf crisis in 2017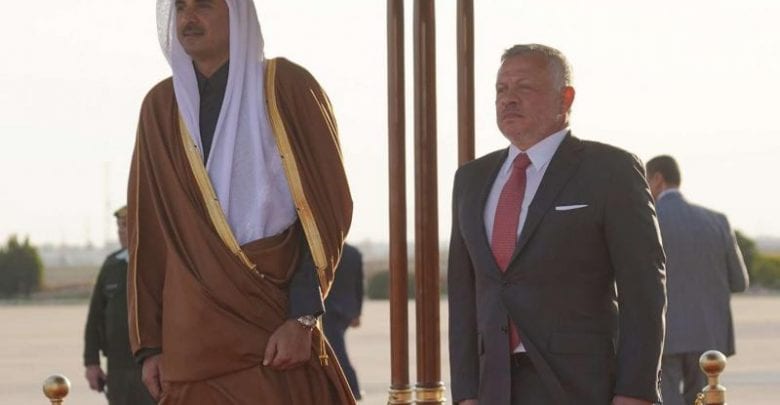 Emir of Qatar, Sheikh Tamim bin Hamad Al Thani, began on Sunday a tour of Jordan, Tunisia and Algeria, his first foreign trip in 2020.
On Sunday, King Abdullah II of Jordan held talks with  Qatar Emir Sheikh Tamim bin Hamad Al Thani in Amman discussing bilateral and regional issues.
The two leaders examined economic and investment-related fields, according to a Royal Court statement.
They also discussed regional developments, mainly the Palestinian issue.
Doha is striving to break out of the regional isolation surrounding it, due to the continued boycott by Saudi Arabia, the Emirates, Bahrain and Egypt. The four Arab boycotting countries decided to maintain their boycott of Qatar in light of Doha's persistence in ignoring their demands to suspend its support of Islamic extremists and steer away from Iran.
The Emir of Qatar is hoping the visit to Jordan could help him offset the repercussions of the Arab boycott on his country's status and reputation despite Jordan's own chronic economic crisis.
The official Qatar News Agency (QNA) said that during his tour, the Emir of Qatar will be discussing "ways to support and strengthen relations, and exchange views on regional issues and the most prominent developments on the global scene of mutual interest."
According to the official Jordanian News Agency (Petra), the leaders of the two countries are to exchange views on "ways to develop brotherly relations between the two countries, and mechanisms to activate cooperation between them in various fields, especially economic ties, in addition to developments in the region."
Relations between Amman and Doha have taken a leap forward with both countries deciding in mid-2019 to resume normal relations and exchange ambassadors, and with Qatar providing the Hashemite Kingdom $500 million in aid.
Qatar pledged to provide 10,000 jobs for Jordanians in several sectors.
Political circles in Jordan have indicated that Jordan is betting on Qatar's support as it faces a serious economic crisis, and especially since support from the main donors in the region has dwindled.
Jordan faces a suffocating economic crisis, in light of a remarkable rise in debts, a large deficit in the state budget, and an aggravated unemployment problem.
The Jordanian government, led by Prime Minister Omar Al-Razzaz, is fighting the situation with plans to stimulate the economy. Thus, it has so far launched 5 economic packages since last year, but citizens have yet to see any significant improvement, amid negative economic indicators in the short and medium terms.
Sheikh Tamim's last visit to Jordan was on March 30, 2014, and it was part of his first foreign tour after assuming power in the country in mid-2013.
For its part, Tunisia announced that the Emir of Qatar will visit Monday and Tuesday to "strengthen relations" between the two countries, according to a presidential statement. The visit will be the Emir's first visit to Tunisia following the election of Tunisia President Kais Saied in October 2019.
Regional issues, especially the situation in Libya, is expected to be on the agenda.
Doha supports the Islamist-backed Government of National Accord led by Fayez Sarraj pitted in a military confrontation with the Libyan National Army headed by Field Marshal Khalifa Haftar. Tunisia's president has expressed the desire to keep the same distance between the two warring sides.
The Emir of Qatar will conclude his tour with a visit to Algeria on Tuesday, which comes "at the invitation of the country's president, Abdelmedjid Tebboune" within the framework of "strengthening relations," according to the official Algerian News Agency.