EU, Arab officials reiterate commitment to "Two-State Solution"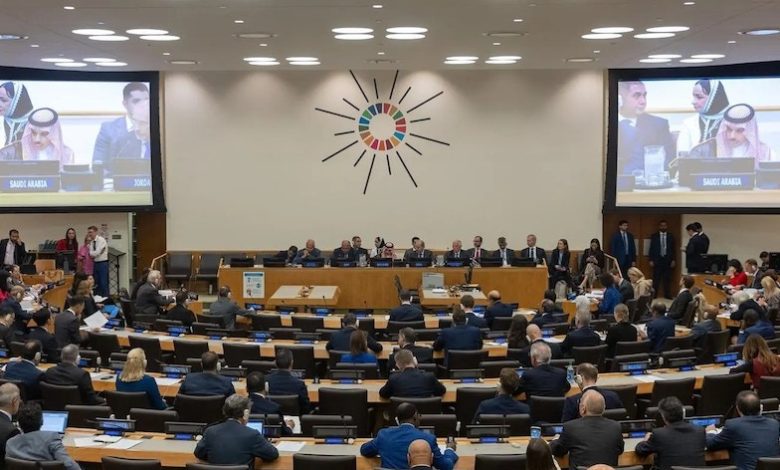 EU, Arab officials reiterated that a two-state solution to the Israeli-Palestinian conflict is the only viable path to peace, as they launched a series of working groups to inject "new energy" into the peace process.
Announcing the initiative at a press conference attended by Arab News on the sidelines of the 78th session of the UN General Assembly, the EU's high representative for foreign affairs and security policy said those who attended the meeting are concerned as the situation on the ground has "deteriorated."
Josep Borrell added: "We had a very long meeting with foreign ministers from Jordan, Saudi Arabia, and the secretary-general of the Arab League."
He said: "It has been a long meeting, but we've left it happy and satisfied, and it was a very good meeting.
"One month from now in Brussels, we'll launch three senior-level working groups looking at bilateral, lateral and regional approaches to finding a solution."
In the absence of willingness from Israelis or Palestinians to engage, he said it is now important for a global coalition to show commitment to ending the conflict.
With the Oslo Accords now 30 years old, Borrell acknowledged that the situation had not seen any improvement in the intervening years, with the number of Israeli settlements in the Occupied Territories only having increased since, and neither side showing readiness for a new round of negotiations.
"The result of this meeting is the strong commitment of many people towards the two-state solution, because if everyone who said they supported the two-state solution was properly engaged, we would have that two-state solution already," Borrell added.
"There isn't another viable solution. There's no alternative to it, so we'll continue working towards it. I can't say everything has been solved, but it's a good starting point."