Gaza health ministry: "Several Killed in Israeli Attack on Ambulance Convoy Near Al-Shifa Hospital"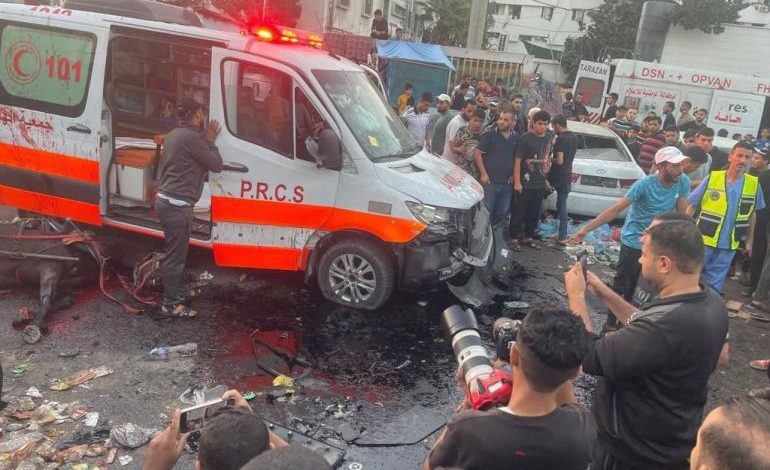 Several people have been killed and dozens of others wounded in an Israeli attack on an ambulance convoy near the al-Shifa hospital in the besieged Gaza Strip, according to the Palestinian health ministry.
The health ministry said "several citizens were killed and dozens wounded in an Israeli strike at the entrance to al-Shifa hospital" in Gaza City on Friday.
A convoy of ambulances was transporting critically wounded patients from al-Shifa hospital to the Rafah border crossing with Egypt when it was targeted in an Israeli attack, said Ashraf al-Qudra, a spokesman for the health ministry in Gaza.
"We informed the Red Cross and the Red Crescent, we informed the whole world, that those victims were lined up in those ambulances," he said.
"This was a medical convoy."
The Israeli military said it was looking into the report.
The Palestinian Red Crescent said one of its ambulances was targeted in the attack near al-Shifa. "The staff is safe," it said.
Palestinian Red Crescent spokesman Mohamed Abu Musbah said the area where the ambulance was hit was "extremely crowded" with civilians.
The largest hospital in Gaza, al-Shifa is facing severe overcrowding, with a bed occupancy rate of 164 percent according to the World Health Organization (WHO), amid Israel's continuing bombardment and blockade of the territory.
At least 16 hospitals across Gaza are no longer functioning due to damage from strikes and a lack of fuel, the health ministry said.
The WHO warned Wednesday that the fuel shortage "immediately risks the lives" of the wounded and other patients.
The Israeli assault on Gaza came after Hamas fighters killed at least 1,400 people in an attack on southern Israel, according to Israeli officials.
More than 9,200 people have been killed and 23,500 others wounded in Gaza since Israel launched a bombardment of the territory on October 7, according to Palestinian authorities.