Gaza Hospital in 'Catastrophic' Situation, Turned Into 'War Zone'
39 premature babies and children who were administered to the intensive care unit at Al-Shifa Hospital are facing death.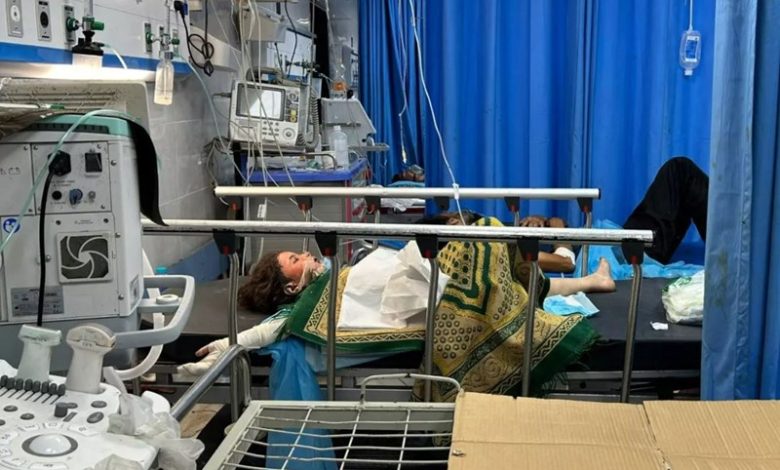 The spokesperson for the Ministry of Health in Gaza, Ashraf al-Qudra, confirmed, on Sunday, that the Israeli occupation is targeting everything moving around Al-Shifa Hospital.
The spokesperson for the Ministry of Health reported that two premature infants and an ICU patient died after the hospital had completely lost power as the last generator ran out of fuel, expecting more to die unless action is taken.
Al-Qudra added that the Israeli occupation has turned Al-Shifa Hospital into "an open war zone," describing the situation as "catastrophic".
"The intensive care unit, pediatric department, and oxygen devices have stopped working," al-Qudra said.
In the same context, Palestinian Minister of Health Mai al-Kaila confirmed on Saturday that 39 children and premature babies who were administered to the intensive care unit are threatened with death in Al-Shifa Hospital as their oxygen supply is on the verge of running out. Al-Kaila stressed that patients in Al-Shifa Complex are threatened with imminent death.
Elsewhere in his remarks, the spokesperson for the Ministry of Health confirmed, "We have exhausted all attempts to extend the duration of health services, and we have lost all capabilities. We are unable to provide any services that could save the lives of the wounded and patients at Al-Shifa Hospital."
Concurrently, two Palestinian doctors, Basil and Youssef al-Mahdi, were martyred after the Israeli occupation bombed Al-Mahdi maternity hospital, west of Gaza. Several injuries among the displaced people inside have been also reported.
'The last call'
Al-Qudra, said, earlier on Saturday, that "the reality of Al-Shifa Complex is beyond imagination," warning that this "might be the last call," as he stressed that the Israeli occupation is committing a holocaust in Gaza.
"We are trapped inside Al-Shifa Medical Complex, and there is a large number of [Israeli military] drones around us," noting that Al-Shifa Hospital has halted all surgical operations while the Indonesian Hospital has completely run out of fuel.
Meanwhile, Gaza's Health Ministry confirmed, as reported by AP, that 1,500 patients, 1,500 medical staff members, and between 15,000 and 20,000 civilians in need of refuge remain in Al-Shifa hospital.
Ahmad al-Barsh, a resident taking shelter in the hospital, said as quoted by AP, "We spent the night in panic waiting for their arrival."
"They are outside, not far from the gates."
Israeli war on the healthcare system in Gaza
Commenting on the catastrophic health situation in Gaza, UN Under-Secretary-General for Humanitarian Affairs and Emergency Relief Coordinator, Martin Griffiths, said in a statement, "Hospitals must be places of greater safety, not of war."
Griffiths tweeted on Saturday: "There can be no justification for acts of war in healthcare facilities, leaving them with no power, food or water, and shooting at patients and civilians trying to flee."
On its account, Médecins Sans Frontières cautioned that patients and medical staff in Gaza are "trapped in hospitals under fire," urging the "Israeli government to cease this unrelenting assault on Gaza's health system."
In a statement released on Saturday, the humanitarian organization said, "MSF urgently reiterates its calls to stop the attacks against hospitals, for an immediate ceasefire and the protection of medical facilities, medical staff and patients."
Meanwhile, WHO chief Tedros Adhanom Ghebreyesus reported on Sunday that the organization has lost contact with its staff in the largest hospital in the Gaza Strip, Al-Shifa Hospital, amid mounting Israeli attacks.
"WHO has lost contact with its focal points in Al-Shifa Hospital in Gaza, amid horrifying reports of the hospital facing repeated attacks. There are reports that some of those who fled the hospital have been shot at, wounded, or killed," Ghebreyesus said on X.
He noted that tanks encircled the facility, based on the most recent information. The head of WHO demanded a ceasefire and civilian safety once more. 
For 37 days now, "Israel" killed over 11,000 Palestinians as a result of relentless bombardment and total blockade of Gaza, as per health experts.