Israeli Tourists Killed, Others Wounded by Egyptian Policeman in Alexandria
Local media say the police officer fired "at random" using "his personal weapon" at an Israeli tour group visiting the Amud el-Sawari area, in Alexandria, northern Egypt.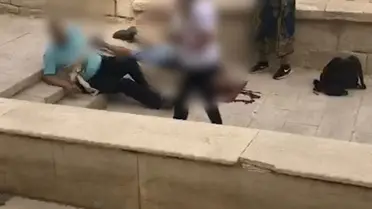 Two Israelis were killed and another was wounded on Sunday by a police officer in Egypt, local media reported, amid Al-Aqsa Flood Operation that the Palestinian Resistance launched on Saturday against the Israeli occupation.
The officer reportedly fired indiscriminately using his personal weapon at an Israeli tour group visiting the Amud el-Sawari area. An Egyptian guide also lost his life in the incident. The Egyptian police officer was promptly arrested.
The Israeli Foreign Ministry confirmed these fatalities and injuries in a statement, expressing sorrow over the incident. They reported that two Israeli citizens were killed, and another was in moderate condition after the attack.
This unfortunate event is not the first of its kind in the region. In June, three Israeli soldiers were killed in Sinai on the Egyptian-Palestinian border when an Egyptian conscript named Mohammad Salah opened fire on them with his military weapon.
Meanwhile, the situation remains tense in the Gaza Strip. Palestinian militant group al-Qassam Brigades has announced that its fighters are engaged in fierce confrontations in several locations near Gaza's border with Israeli settlements.
The backdrop to these events is Al-Aqsa Flood Operation, a major offensive launched by the Palestinian Resistance against Israeli forces and settlements in the Gaza Envelope region. The operation, which began suddenly, resulted in the detention of Israeli occupation forces and settlers and inflicted numerous casualties among them. The Israeli Prime Minister, Benjamin Netanyahu, described the situation as a state of war initiated by Hamas through a "surprise attack."
Israeli media reports suggest that around 750 Israelis are still unaccounted for, and the Ministry of Health has reported a rising death toll among Israelis, with many in serious condition. The true extent of the casualties is feared to be much higher than the official figures.
In response to these developments, Israel has launched airstrikes against residential buildings in the Gaza Strip, resulting in the deaths of 313 Palestinians, including 20 children. The situation in the region remains highly volatile and fraught with tensions on both sides.