Greece: Turkey seeks a permanent military presence in several countries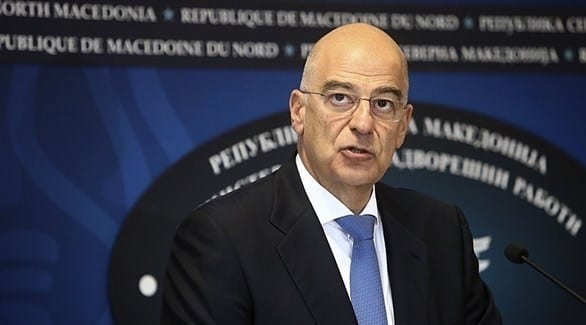 Greek Foreign Minister Nikos Dendias said on Sunday that Turkey is trying to establish a "permanent military presence" in many countries, considering that this matter could be a "destabilizing factor."
Dendias added in a tweet on his Twitter account that Turkey "is increasingly playing the religious card to advance its geopolitical agenda, and we have seen examples of this in our immediate neighborhood, in the Balkans and the Eastern Mediterranean."
Dendias pointed out that this is also increasing in other regions of the world, especially in Africa.
On Friday, the Greek news agency quoted Dendias as saying that he had not seen "concrete evidence" of a change in Turkey's behavior or beliefs.
Commenting on these statements, Turkish Defense Minister Hulusi Akar said, "Greece continues to provoke and violate bilateral agreements, and the Greek minister's statements do not correspond to the talks between the two countries' presidents."
Greek Foreign Minister Nikos Dendias
The minister stressed during an economic conference that his country's foreign policy "is based on the principles of international law and the law of the sea, in light of the fact that most of the eastern Mediterranean countries follow these principles and understand the need to follow them."
But he added, "Unfortunately, there is only one minority country, which is Turkey, that does not subscribe to these principles for reasons of its own."
"Many things will depend on what happens on July 20 and how Erdogan will choose to celebrate the anniversary of Turkey's invasion of northern Cyprus in 1974," he added.
The observatory stated on Saturday that more than 150 members of the various factions and the so-called "National Army" loyal to Ankara "are preparing to go to Turkey in the coming hours, to transfer them to Libya before the middle of this month."
Dendias' talk today about building Turkish bases abroad comes the day after the Syrian Observatory for Human Rights confirmed on Saturday that Turkish intelligence and pro-Ankara factions are preparing to send a new batch of Syrian mercenaries to Libya.
The observatory stated that a batch of the same number would return from Libya, "where the people leaving and returning are transported by the same plane."
In another context, Turkish President Recep Tayyip Erdogan announced on Friday that Ankara and Washington had agreed to "arrangements" for Turkish forces to secure Kabul Airport after the US withdrawal from Afghanistan.