Igor Coronado became the most expensive signing in Gulf football history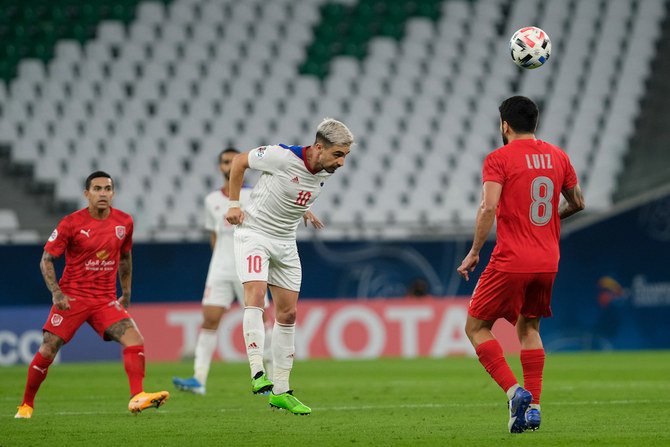 "It is a strange situation, but I really do not have a home team that I support," Igor Coronado told the official Arabian Gulf League YouTube channel, shortly after leading Sharjah to UAE championship glory for the first time in 23 years.
His answer, delivered in perfect English with an accent that is hard to pinpoint, was another sign of the mixed upbringing of this diminutive playmaker, who this week broke the record for the most expensive transfer between GCC clubs: a $12 million move to Saudi Pro League side Al-Ittihad from Sharjah.
Born in the southern Brazilian city of Londrina in Parana state, Coronado's journey to Middle Eastern football began in Buckinghamshire, England, where his parents had moved in pursuit of work opportunities. He joined MK Dons Academy at the age of 15. After three years in the youth ranks, alongside the likes of Dele Alli, the club decided he was not good enough to make the leap to the first team and released him at the end of the 2010-11 season, when he was 18.
Rather than return to Brazil or give up his football dreams, Coronado carved his own path. He joined Banbury United, who played in the seventh tier of English football, before swapping Oxfordshire for Malta in November 2012, signing for Premier League side Floriana in an effort to make it in a top division.
At one of the most successful clubs on the Mediterranean island, Coronado's talents finally exploded as he scored for fun, earning him a move to Italian side Trapani in August 2015.
"Coming into a new league, you always want to show your quality. I scored in my first game with Trapani and that goal removed a lot of pressure from my shoulders; it remains a moment in my career I cannot forget," Coronado said of the first of his 20 strikes in Serie B; a league he would go on to dominate for the next two seasons, before once again moving on.
At Stadio Renzo Barbera on Sep. 9, 2017, Coronado collected the ball on the right flank, 30 yards from goal. At first glance, it looked like he was set to take on his marker as he took a few short steps forward. Instead, he rifled the ball straight into the roof of the net, leaving the Empoli goalkeeper helpless.
Two years on from his debut appearance in the Italian second division, the talented boy from Parana was now Palermo's talisman, filling shoes once worn by the likes of Fabrizio Miccoli and Javier Pastore. That strike against Empoli was followed by eight more in a record-breaking season, during which he lit up the division as Palermo narrowly missed out on promotion, losing the play-off final to Frosinone.
Coronado had hit the big time, however, and the suitors came knocking. English side Watford made him an offer but, as always, the magician was master of his own destiny. A $5 million deal was agreed with Sharjah and in 2018 he headed to the UAE on a mission.
The job at hand: Help to revive a fallen giant. Despite having five league titles to their name, it had been more than two decades since Sharjah were last crowned champions. Since then, there had relegation, promotion and many a season spent languishing in mid-table mediocrity for the side from "the smiling emirate."
The previous season the side had finished sixth, after former captain Abdulaziz Al-Anbari took over as manager mid-season, replacing sacked Jose Peseiro in a desperate attempt to rescue a flailing campaign.
It took only 15 minutes for Coronado to register his first assist for the Emirati side. A sliced pass into the box set up Ryan Mendes to fire home the opener against Al-Dhafra.
Two further assists and a goal followed, as a 4-0 thrashing got what was destined to be an unforgettable 2018-19 Arabian Gulf League season underway for Sharjah and Coronado.
If that start was impressive, Coronado's second game of the season was when his legend was born. Thirteen minutes into his home debut he picked up the ball at the halfway line, leaving Al-Nasr pair Tareq Ahmed and Mahmoud Khamis chasing shadows, before sprinting toward the box. He ran rings around a defender and then rounded the goalkeeper, who was left with no option but to bring him down. The fans were still applauding in awe as he stepped up and converted from the spot. Coronado was involved in four of the goals as Sharjah ran out 6-3 winners.
The moments of magic were too numerous to count during the 2018-19 season, as Sharjah completed a campaign for the ages. A single 3-2 reversal at Al-Wasl, three games from the end of the season, denied the side the "invincibles" tag. In the very next game, against Al Wahda, another man-of-the-match display from Coronado, including a brace, sealed the league title.
The then 26-year-old had accomplished his mission impossible. He picked up two player of the month awards along the way and was on the podium at the end of the season to receive the Golden Ball for the best foreign player in the country. Eight years after being released by MK Dons, Coronado had won his first silverware and was a name to be reckoned with.
Sharjah's return to AFC Champions League football for the first time in 15 years was secured and Coronado was the club's standout performer in the 2020 competition. They missed out on the round of 16 on goal difference.
A season canceled due to the pandemic, preceded by a campaign interrupted by injuries, take nothing away from the quality of a player who had already written his name in UAE football folklore.
As had been the case previously in England, Malta and Italy, Coronado decided it was time to move on to pastures new, and Sharjah was left with no choice but to accept a $12 million bid from Saudi side Al-Ittihad. The fact that his former employers staunchly resisted an offer that was more than double what they paid for him three years earlier speaks volumes about the status he had acquired at Sharjah Stadium.
The new challenge for the Brazilian is to help restore the glory days for the two-time Asian champions, who are back in contention after a spell of a substantial drop in standards. But if Coronado's story so far has taught us anything, it is that he is a man who is always up for a challenge.