Iran: Brutal aggression on Gaza political suicide for 'Israel'
Iran's Defense Minister condemns the Israeli airstrikes on Syria and Gaza as he says they amount to political suicide.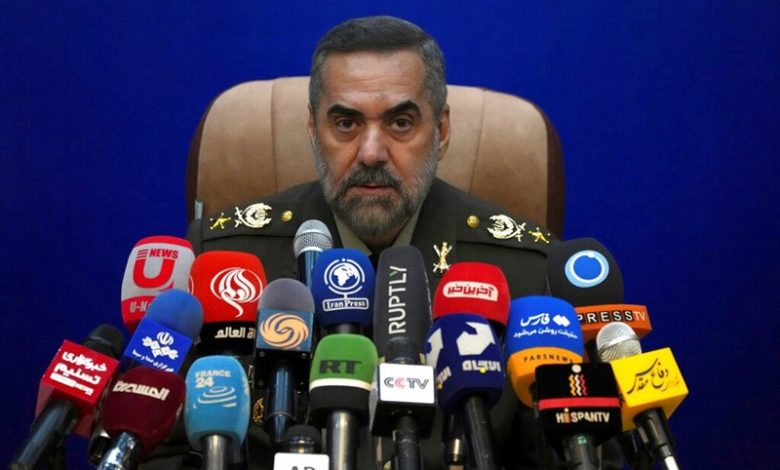 In a phone call with his Syrian counterpart Ali Abbas on Monday, Iranian Defense Minister Brigadier General Mohammad Reza Ashtiani described the brutal aggression perpetuated by the Israeli occupation forces against Gaza as "political suicide". 
"This accursed entity is trying to compensate for its unprecedented operational and intelligence failures by killing children and innocents in Gaza," he said. 
Ashtiani condemned Israel's crimes, particularly the aggression on the Baptist Hospital in Gaza on October 17. He emphasized that the situation in Palestine was "painful and tragic."
He also pointed to the victories of the resistance in Operation Al-Aqsa Flood, affirming that "after these victories, the Zionist entity revealed its inhumane crimes in Gaza."
The Syrian Defense Minister praised Iran's efforts in following closely on the concerns of Syria and the Axis of Resistance, stating, "We are deeply saddened by what happened in Gaza and beloved Palestine, and we are confident that the blood of martyrs will bring shame to the Zionists."
Furthermore, Iran's Defense Minister condemned the Israeli airstrikes against the Damascus and Aleppo airports, which resulted in the martyrdom and injury of Syrian army officers and Syrian civilians, stating that the Israeli occupation's goal with these attacks was to "send a message that this entity is present on all fronts and capable of a serious and decisive response," despite "the fragility of this entity compared to the perceptions it has created."
"The aggression of this occupation entity on Aleppo and Damascus airports is indicative of its internal weakness, especially on the battlefield. We will stand against this criminal entity for the higher cause," he added.
The Syrian Defense Minister also said the Israeli crimes in occupied Palestine, especially in Gaza, expose "the filth and brutality of the supporters of this entity to the world and arouses the support of all Arabs, Muslims, and free people for Palestine, heralding the end of these criminals and a significant turning point and defeat for the Zionist entity."
Earlier today, Iranian Foreign Minister Hossein Amir-Abdollahian pointed out that "the ultimate goal of the fake and occupying Israeli regime is the forced displacement of the residents of Gaza and the West Bank to the Sinai region of Egypt and parts of Jordan."
Amir-Abdollahian made this statement in a phone call with his Egyptian counterpart Sameh Shoukry as part of diplomatic consultations with officials from Islamic countries regarding the need to stop the war crimes committed by the Israeli occupation against the people of Gaza.
The top Iranian diplomat once again announced the readiness of the Iranian Red Crescent to send humanitarian aid to the people of Gaza through Egypt.
He indicated that "Tel Aviv is trying to establish a Palestinian state outside the historical land of the Palestinians, but the resistance has been the main barrier to the realization of the troubled dreams of the Zionists."