Israel Announces Death of High-ranking Officer Near Lebanese Border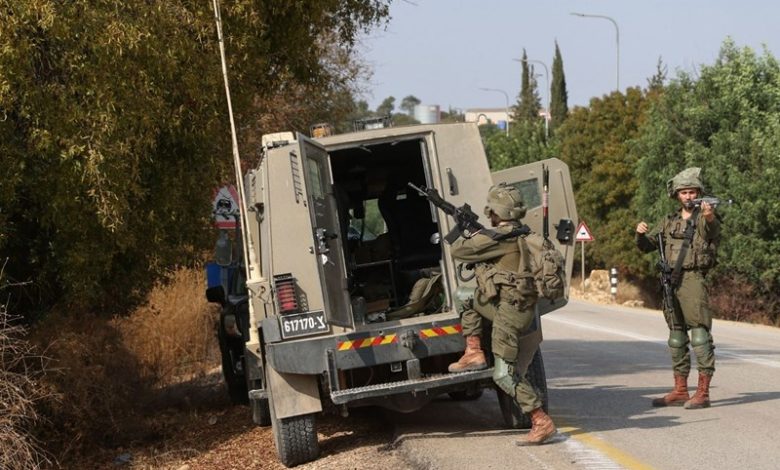 Elim Abdullah, the deputy commander of the 300th Brigade in the 91st Division of the Israeli occupation forces (IOF) has been killed, the IOF announced on Monday.
This comes in the context of an infiltration attack carried out by Al-Quds Brigades, the military wing of the Palestinian Islamic Jihad (PIJ), on the occupied village of Arab Al-Aramshe, which is adjacent to the Lebanese village of al-Dhayra. 
Furthermore, al-Quds Brigades announced in the aftermath of the operation that two of its fighters were martyred.
Martyr Hamza Hassan Mousa, born in al-Burj al-Shamali camp in 2002.
Martyr Riyad Mohammad Qiblawi, born in Ain al-Hilweh in 1999.
Hezbollah also mourned three of its fighters; Hossam Mohammed Ibrahim, Ali Raif Ftouni, and Ali Hassan Hodroj earlier.
The Brigades added that its fighters killed two officers in the IOF and injured five other occupation soldiers.
Tensions rise in south Lebanon
In a similar context, a rocket targeted an Israeli military base in occupied territories near the southern Lebanese town of Rmeish, Al Mayadeen's correspondent reported.
In response, Israeli occupation forces shelled the outskirts of the town.
Meanwhile, Israeli settlements in occupied northern Palestine, near the border with Lebanon, were evacuated, according to our correspondent.
Moreover, Israeli media sources have reported that the Lebanese Resistance movement Hezbollah has targeted IOF armored vehicles with guided missiles.
On Monday evening, the Islamic Resistance in Lebanon – Hezbollah, attacked the "Branit" base, the command center of the 91st Division of the IOF, and the "Avivim" base, the command center of a battalion that is a part of the IOF's Western Brigade.
The attack was an initial response to the martyrdom of three of its fighters earlier in the day who were killed by Israeli strikes on Lebanese towns and villages.
Israeli shelling also targeted al-Raheb base belonging to the Lebanese Army injuring an officer.
Israeli commentators fear multi-front war
Israeli commentators are raising concerns about the possibility of a multi-front war, amid the ongoing Operation Al-Aqsa Flood.
"We are heading into a long battle in Gaza… and at any moment, we might find ourselves in a multi-front war," Alon Ben David, the military affairs analyst at Israeli Channel 13, said.
He emphasized the magnitude of the unfolding events, saying that this is not an operation but a long ongoing battle that will take a long time, asserting that it would last for more than two weeks.
Ben David said that currently, "Israel" "is focused to the north, in reference to the northern front facing Lebanon and Syria.
In the same context, Channel 12 reported that the northern front might witness escalating events, saying that this is deeply concerning to the IOF.