Israel continues to bomb Gaza and prepares for a ground invasion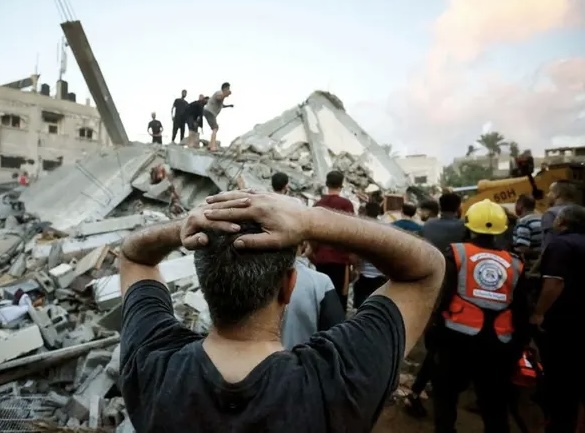 The Israeli air strikes were renewed on various parts of the Gaza Strip, and the Israeli aircraft launched a fire belt with dozens of raids. Israel said it has already struck dozens of military targets, including command centers and rocket launchers, and also killed Hamas commanders.
Israeli forces, supported by a growing deployment of US warships in the region and the call-up of some 360,000 reservists, have also positioned themselves along Gaza's border and begun drills for what Israel said would be a broad campaign to dismantle militant group Hamas, the Associated Press reported.
At the same time, the United States was deploying a second aircraft carrier to the Eastern Mediterranean amid fears of a wider war.
Israeli officials have given no timetable for a ground incursion that aid groups warn could hasten a humanitarian crisis in the coastal Gaza enclave.
Israeli air strikes on Gaza have killed at least 2,750 Palestinians and wounded 9,700 others, the Palestinian health ministry said on Monday, as Israel prepared to launch a ground invasion.
An correspondent reported that Israel renewed its bombardment of the Gaza Strip after momentarily halting its fire as sources said that the Rafah border crossing into the besieged city reopened.
However, Israel denied that the crossing reopened and that a truce with the United Nations and Egypt allowing for the delivery of humanitarian aid and the evacuation of foreigners from the strip was under way, half an hour after security sources in neighboring Egypt said such a deal was due to be implemented.
Gazans are struggling to sustain the dwindling food and water supplies, while hospitals warned that they are on the verge of collapse after Israeli warplanes bombed neighborhood after neighborhood.
Meanwhile, almost half a million people, nearly one quarter of Gaza's population, have sought refuge in United Nations schools and other facilities across the territory, where water supplies were dwindling, said Juliette Touma, spokesperson for the UN's Palestinian refugee agency.
"Gaza is running dry," she said. The agency says an estimated 1 million people have been displaced in Gaza in a single week.