Israel election: Netanyahu claims victory but falls short of overall majority, exit polls say
The prime minister's right-wing bloc took 59 seats according to exit polls, indicating the embattled leader may cling on to his premiership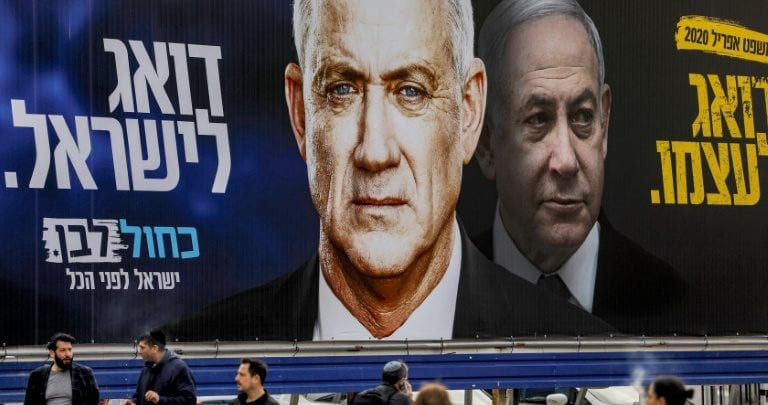 Benjamin Netanyahu's Likud party appears to have won the most seats in Israel's election but is just one short of the number needed for a majority right-wing government, according to early exit polls.
The results released by Israeli networks Channel 11, 12 and 13 show Mr Netanyahu's Likud party sweeping between 36 and 37 of the seats of the Knesset, Israeli's parliament, storming well ahead of the prime minister's chief rival Benny Gantz.
While the polls did not give the Likud and it's right-wing religious allies the 61-seat majority needed to form a government – their right bloc was forecasted to take 59, two seats short. 
This will probably mean Mr Netanyahu, who has fought a fierce elections campaign under the shadow of indictment on corruption charges, will be poised to retain his position as prime minister. 
The polls suggested Mr Gantz's centrist Blue and White party fell behind with between 32 and 34 of the seats. The centre-left bloc meanwhile trailed with just over 41 of the seats, according to the polls. 
The official results are due to be announced on Tuesday, pending any voting abnormalities. 
As the news broke Mr Netanyahu tweeted "thanks" with a heart emoji. 
Later at the Likud headquarters in Tel Aviv, to a room packed with jubilant supporters wielding enormous flags and bunches of balloons, he declared it "a night of great victory".
"We won against all odds," he said before listing the achievements of the last decade under his rule. 
 "This victory is especially sweet, because it is a victory against all odds … We turned lemons into lemonade."
He vowed to work on the immediate annexation of parts of the West  Bank and finished the speech by vowing to press ahead with government building.
"Tomorrow, after we sleep a bit. We'll sit down to form a strong and stable national government." 
Earlier Gilad Erdan, a Likud Knesset member (MK) told our Arabobserver: "I'm feeling great and I think that the people of Israel have shown that they support the leadership of Prime Minister Netanyahu and the views of the Likud and the right-wing camp."
"Now we hope that the other parties will accept this verdict and will negotiate with us to establish a strong right-wing government," he added. 
 
However, he did not give specifics about where the final seat needed for a majority would come from. 
Rachel Broyde, a Likud spokeswoman, called it a "huge success". 
"This is very exciting for us. It's too early to say for sure but we feel that we have finally seen a breakthrough," she said. 
"We wanted to get an easy 61 seats or more, right now we are at 60 but the number of seats could easily push ahead based on the surplus votes agreement," she added. 
"I understand the feeling of disappointment… This wasn't the outcome that perhaps we would have wanted," he said. 
He thanked thousands for their support through "the nastiest election campaign in Israel's history", adding that "the State of Israel needs to heal, it needs unity, and reconciliation. We will continue to serve the public".
He reminded his teams of Mr Netanyahu's impending trial, adding "We have just begun. We have a long road ahead," he said.
Blue and White MK Yael German echoed the former army chief, saying it was time to "digest" the polls before coming to conclusions.
"Now is the time to wait. We need to wait for the results it won't be the same as we saw just now," she told our reporters.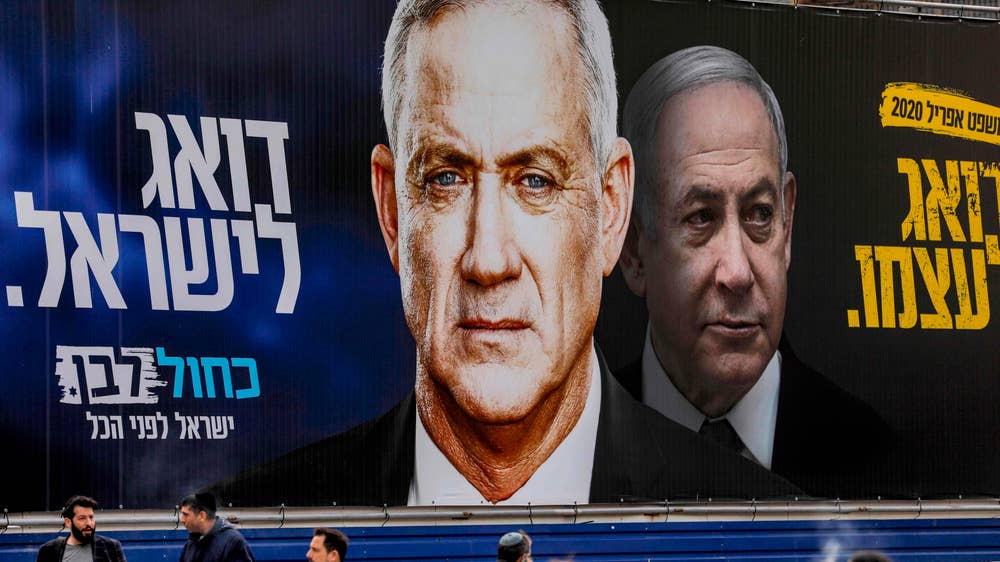 "I'm not very happy with the results as of now but we've been through three rounds and until now Benjamin Netanyahu hasn't succeeded in forming a government so maybe Benny Gantz will. It's time to wait," she added.
A Blue and White campaigner Nachum Schwartzberg, 48, from Tel Aviv said that he still felt "optimistic" despite the damning polls.
"We need to wait for the morning results. These numbers are misleading. But the basic feeling is that people ignored Netanyahu's indictments. It's not surprising it's just disappointing," he said.
"We could get another few seats by the morning. I'm still optimistic. Blue and White's line is about bringing people together, it's not for nothing the tag line is "Israel before anything". 
Israel has been run by a toothless caretaker government for the last year following two inconclusive general elections after which Mr Netanyahu and his arch-rival Mr Gantz both failed to form majority ruling coalition. 
Without the ability to set and approve budgets and so set funds for health, education, welfare and infrastructure projects, the economy has suffered.   
Voters at the polling stations expressed their intense dissatisfaction at the impasse. 
Mr Netanayhu has been fighting for re-election just weeks before he is due to appear in court on charges of bribery, fraud and breach of trust, allegations he vehemently denies. 
His opponents say he cannot juggle being the country's prime minister and stand trial. 
His supporters have labelled the legal proceedings political witch hunt by the "deep state". 
In a bid to whip up support, he has vowed to imminently annex the occupied West Bank including the strategic Jordan Valley, an action which would be illegal under international law, prompting uproar abroad. 
His party, meanwhile cast a wide net, campaigning to attract the Ethiopian Israeli community, cannabis smokers and reluctant voters. 
But with 60 seats, Mr Netanyahu's right-wing bloc still needs just one seat to form a ruling coalition and so will have to campaign hard to convince MKs to defect.
The polls said that the third biggest party was the Arab-majority Joint List, with between 14 and 15 seats. But while they could easily sway the vote they are unlikely to form a coalition with either Likud or Blue and White. ​
Yisrael Beiteinu, the right-wing party of Avigdor Lieberman is projected to have 6-8 seats. He was a vital part of Mr Netanyahu's previous coalition before withdrawing his party in late 2018 and triggering the first round of elections. 
The so-called "Kingmaker" has not yet confirmed what he would do.
"We won't have a choice except to wait for the real results," he said after the exit polls were released.
"We are a party with a specific doctrine, with values, we won't budge a millimetre from what we've promised our voters. .. I'll repeat, there won't be another round of elections," he added.