Israeli military search Al-Shifa Hospital in Gaza for 2nd Day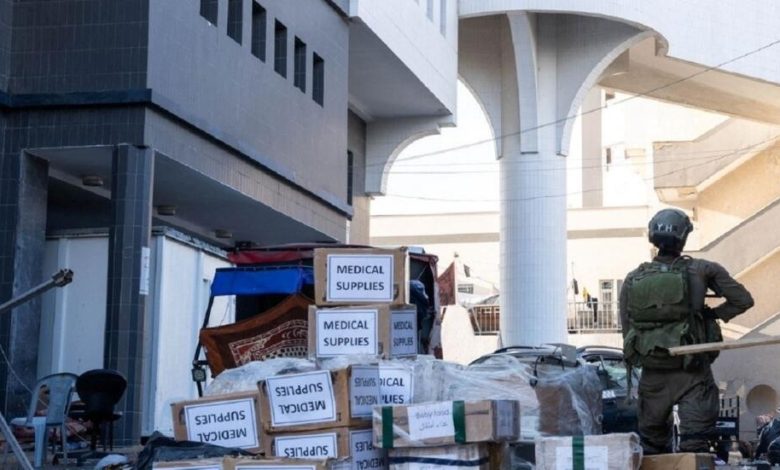 A day after the Israeli military took control of Gaza's largest hospital ( Al-Shifa), soldiers on Thursday afternoon were still combing the site that Israel has said concealed a secret Hamas base, but had yet to present much evidence supporting that claim to the public.
Since invading Gaza 20 days ago, Israel has presented the hospital, Al-Shifa, as one of its primary targets, saying it sits atop a network of subterranean fortifications installed by Hamas, the armed Palestinian group that controlled the entire territory until the invasion began. Hamas and the hospital leadership have denied the accusations.
An Israeli military spokesman said that the search of the hospital grounds would take time because "Hamas knew we were coming" and had made off with or hidden traces of their presence there.
The claim that Hamas operated from within the sprawling hospital complex has been central to Israel's defense of the death toll caused by its military campaign in Gaza, which has killed more than 11,000 people, according to Gazan health officials. Israeli officials say that the extreme loss of life has been caused in part by Hamas's decision to hide its military fortifications and command centers inside civilian infrastructure like Al-Shifa.
A Hamas spokesman, Osama Hamdan, on Thursday accused Israel of planting the limited evidence it has produced to show a militant presence at the hospital.
Israel's ability to prove its claim could be key to whether its foreign allies continue to support its military response to Hamas's Oct. 7 attack on Israel. White House officials have said they believe, based on intelligence gathered independently of Israeli sources, that Hamas used the hospital as a base.
The United Nations Security Council called on Wednesday for immediate, dayslong pauses in the fighting to allow more aid to reach civilians. The United States — a key ally that often vetoes U.N. statements critical of Israel — abstained from voting on the resolution, allowing it to pass.
By Thursday afternoon in Gaza, the only evidence that the Israeli military had so far provided publicly of Al-Shifa's purported dual use was video showing some weapons and equipment — about a dozen guns, a grenade, protective vests and military uniforms — that it said soldiers found within an M.R.I. unit at the hospital. The New York Times has been unable to verify the provenance of the weapons.
Mr. Hamdan, the Hamas spokesman, called the video "a weak and ridiculous narration," at a news conference in Beirut. "The occupation resorted to this farce to cover up the fall of its alleged story," he added.
He said Israeli troops had "terrorized the patients and detained them in a barbaric manner," and accused them of "destroying the medicine warehouse and disabling the M.R.I. machine."
On Oct. 27, the day that its forces invaded Gaza, the Israeli military published a map of the site that suggested Hamas was operating four underground complexes beneath the hospital's internal medicine department, its chest and dialysis department, its M.R.I. department and a rest area at its western edge. The map also suggested that Hamas ran a command center at or near the hospital's outpatient clinic.
The army has not yet presented evidence publicly that any of those five sites exist. It did say in a statement that soldiers had found an aboveground command center in the M.R.I. unit, without providing further evidence. Hamas dismissed the assertion as "a fabricated story that no one would believe."
A spokesman for the Israeli military, Maj. Nir Dinar, said that Israel needed more time to find and present evidence.
"It takes time because Hamas knew we were coming, and they've tried to hide evidence of their war crimes," Major Dinar said. "They've messed up the scene, they've brought in sand to cover some of the floors, and they've created double walls."
The Gaza health ministry said on Thursday that thousands of people remained inside the Al-Shifa Hospital compound with little food and water as Israeli forces searched the premises for a second day.
Ashraf Al-Qidra, a spokesman for the ministry, told Al Jazeera Arabic that, in addition to people who have been sheltering at the complex, about 650 patients remained there. Israeli forces had barred medical workers and patients from leaving, and had detained two technicians, he said.
A communications blackout swept through Gaza on Thursday, making it exceedingly difficult to reach anyone at Al-Shifa or at other hospitals.
Phone calls that did go through kept ringing, or were answered with a recorded message about the outage.