Israeli occupation continues its destructive war on Gaza, as U.S. Steps Up Mediation
Israeli strikes damaged a road leading to a Gaza hospital on Sunday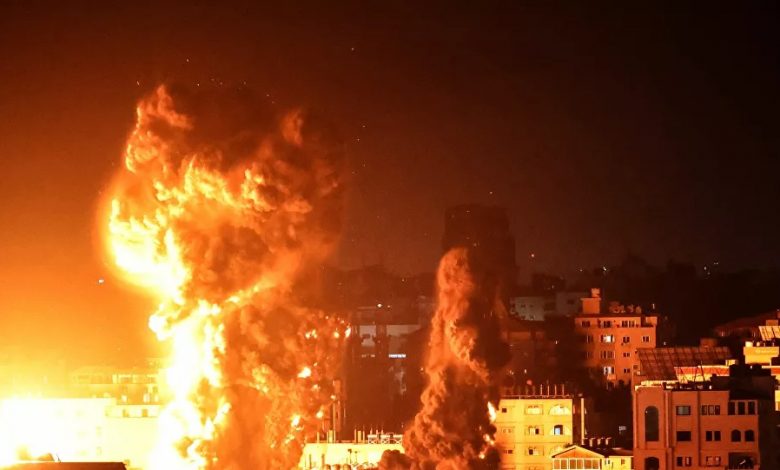 The violence in Gaza entered a eighth consecutive day on Monday, hours after President Biden spoke to the Israeli and Palestinian leaders and protests erupted anew in the occupied West Bank.
Israeli occupation strikes destroyed the home of Yehya Sinwar, and damaged one of the main roads leading to Shifa Hospital, the largest in the crowded coastal strip.
An Israeli enemy airstrike destroyed a prominent high-rise in Gaza Ciy that housed media outlets including The Associated Press and Al Jazeera.
Biden conferred with Prime Minister Benjamin Netanyahu of Israel and President Mahmoud Abbas, the Palestinian leader, about efforts to broker a cease-fire.
Hours after the call, Mr. Netanyahu posted a speech to Facebook in which he vowed to continue attacks on Gaza.
"You know and I know: No country would tolerate this," Netanyahu said. "Israel has responded forcefully, and we will continue to attack Gaza.
With American, Egyptian and Qatari officials attempting to negotiate a pause, an American envoy, Hady Amr, landed in Israel for two days of talks with Israeli and Arab counterparts.
Israel enemy Defense Forces fighter jets struck a media tower in Gaza housing the offices of The Associated Press and Al Jazeera.
Gary Pruitt, the chief executive of the A.P., said he was "shocked and horrified" by the attack and called on Israeli authorities to present evidence of Hamas' presence in the building.
An Israeli enemy airstrike overnight killed at least 10 members of an extended family in a refugee camp in Gaza.
The health ministry in Gaza said that at least 145 people had died in Israeli occupation airstrikes and shelling, 40 of them children, with about 1,000 injured. Those numbers could not be independently verified. The United Nations said that 10,000 Gazans had left their homes to take shelter in schools, mosques and other places.
Power in Gaza is down to five hours a day in some places, and water comes out of the pipes only once every few days. Any efforts to contain what had been a worsening coronavirus infection crisis all but ceased.
Israel occupation faces criticism for the number of children killed in airstrikes.
Palestinians on Saturday carried the bodies of children killed in an Israeli airstrike on a refugee camp in Gaza.
The Israeli occupation military came under mounting criticism on Saturday for the growing number of children that have been killed in airstrikes on Gaza.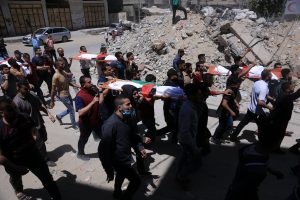 Images of children's martyrs circulated on social media on Saturday, along with the video of a bereft Gaza father comforting his wailing infant — the sole child to survive an Israeli airstrike.
At least 145 martyrs have died in Gaza since fighting began on Monday, about 40 of them children, according to the United Nations. Ten Israeli civilians since Hamas fired rockets into Israel enemy.
"It's not acceptable!" Simon Coveney, the Irish foreign affairs minister, tweeted on Saturday, vowing to make a case at the United Nations to hold Israel accountable for the death of children. He said that Israel occupation had an obligation under international law "to protect children in conflict" and were "not doing so!"
The current battle is not the first time children have borne the heavy share of the casualties. In the 2014 conflict, more than 500 children martyrs were killed, according to the United Nations, roughly a third of Palestinian fatalities.
Among the deaths this week were eight children martyrs killed in a single airstrike around 2 a.m. Saturday in the Shati refugee camp.
"I am appalled by the horrific incident in Al-Shati camp which claimed the lives of 8 Palestinian children martyrs, in an Israeli airstrike," tweeted Tor Wennesland, the U.N. Middle East envoy.
Speaking of the children killed on both sides, he added: "I mourn their short lives." Children "continue to be victims of this deadly escalation," Mr. Wennesland said. "I reiterate that children must not be the target of violence or put in harm's way. The hostilities must stop now!"
Gaza's demographics and the nature of life and warfare there make any fighting dangerous for children, aid workers say.