Israeli Occupation martyrs Two in Gaza as death toll reaches 15 people since dawn
Two Palestinians confirmed dead after their remains were transferred to the Nasser Medical Complex in the form of dismembered body parts as a result of the IOF bombing which targeted their car.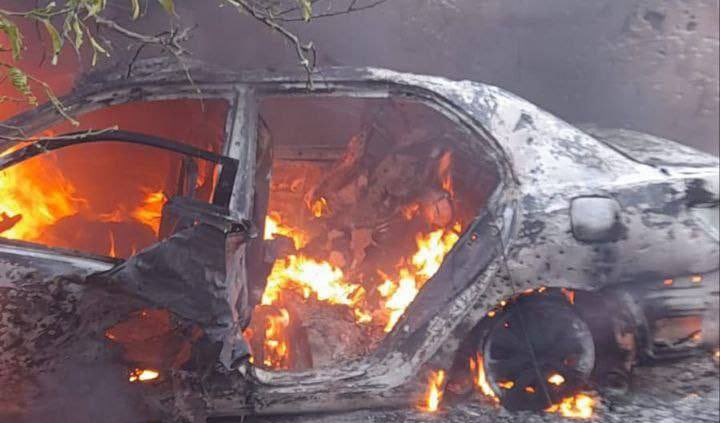 The Israeli Occupation continued its agression, on Tuesday, against the Gaza Strip and targeted a car allegedly including 2 Resistance leaders. While the targeting of the car in Southern Gaza's Khan Yunis was confirmed by Palestinian media, the Health Ministry confirmed the martyrdom of 2 Palestinians but has yet to identify the remains of those martyred.
The two martyrs arrived at the Nasser Medical Complex in the form of dismembered body parts as a result of the bombing which targeted their car. 
It is worth noting that sources revealed to Al Mayadeen correspondent in Gaza that the two martyrs in Khan Yunis did not belong to the Al-Quds Brigades, the military wing of the Palestinian Islamic Jihad Movement in Palestine.
For its part, the Israeli Occupation Forces claimed that its fighter jet targeted a cell of resistance fighters "carrying Anti-tank guided missiles in the city of Khan Yunis."
Early at dawn, the IOF also targeted Gaza and martyred three PIJ leaders alongside their wives and children. The Palestinian Health Ministry in Gaza confirmed that the total death toll of the aggression reached 15 martyrs, including 4 children and 4 women, in addition to 22 injured.
Palestinian response to Israeli aggression will be united: PIJ
The military spokesperson for the Al-Quds Brigades, Abu Hamza, underlined on Tuesday that the Israeli massacre against the Brigades' leaders in Gaza will increase the Palestinian people's adherence to the resistance.
At dawn Tuesday, the Israeli occupation launched an aggression against Gaza and targeted several areas in the Strip, including the homes of PIJ leaders, which resulted in the deaths of 13 Palestinians, including three Al-Quds Brigades leaders.
During a recorded speech, Abu Hamza said, "as is their bloody habit, the enemy committed, at dawn today, with all harshness and prejudice, a new crime against our people, our leaders, and our fighters, in horrifying and scattered massacres in various areas of the Gaza Strip, and crimes against civilians that shock humanity, the enemy falsely and deludedly believing that this bloodshed will be a bridge to cross and a lifebuoy for salvation."
The spokesperson stressed that this heinous crime will only increase the Resistance's "determination to continue the path drawn by the martyrs," underlining that "this path will not end except with the enemy's certain defeat and the defeat of its military leaders."
The Palestinian official indicated that the massacres committed by the Israeli occupation against innocent civilians "will only strengthen our brave people's commitment to resistance until the liberation of Palestine, all of Palestine."
Abu Hamza called on the masses of the Palestinian people to be patient, and steadfast, and "rally around Resistance as a strategic choice to deter the occupier and repel aggression on the path of liberation and dignity."
He confirmed that the Al-Quds Brigades and the Resistance "will fulfill our commitment to the martyrs and face the aggression with steadfastness and patience."
Abu Hamza said that "a commander will be replaced by a thousand commanders, and new knights will carry the banner and continue the path until the demise of this entity on the beloved and pure land of Palestine."