Israeli Occupation warplanes strikes Gaza Strip
Israeli occupation carries out a series of raids on the Gaza Strip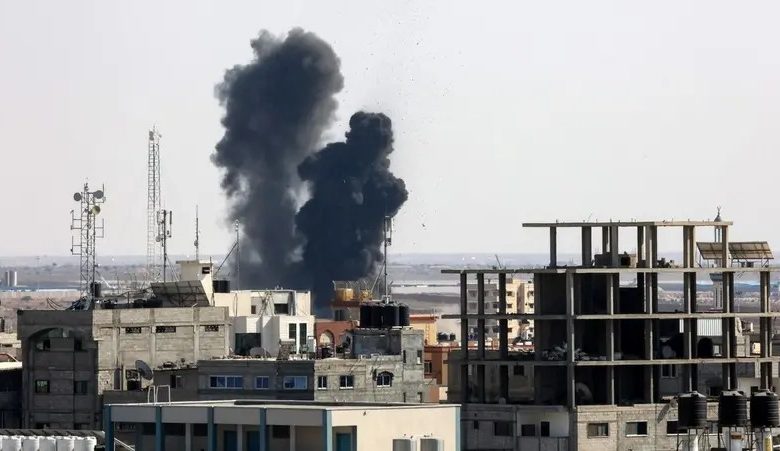 Israeli occupation warplanes carried out several raids, on Friday at 3:10am, targeting a number of locations in the Gaza Strip, occupied Palestine.
Successive explosions were heard across Gaza, as some have targeted the 13th Brigades site, a faction of Hamas' Al-Qassam Brigades, near the entrance of the Maghazi refugee camp. The Resistance retaliated using anti-aircraft weaponry, however, the Israeli raids caused a power outage in large parts of the camp.
In an official statement, Hamas spokesperson Hazem Qassem said that "this barbaric Zionist strike on Gaza today is a blatant aggression and an extension of the war against our people," adding that "this Zionist terrorist act will not stop our people's revolution across Palestine."
Qassem further noted that "in spite of this aggression, we will continue our just fight against the occupation until our people's goals of liberty and independence are achieved."
Early warning systems were sounded in the "Kissufim" and "Al-Ain Al-Thalithah" illegal settlements, our correspondent in the Gaza Strip reported on Thursday evening.
Israeli media reported that "sirens blared in the Gaza envelope," noting that it is possible that rockets would be launched from the Strip toward the occupied territories.
"At least one rocket was launched from the Gaza Strip towards the settlements adjacent to it," the Israeli Channel 12 said.
PIJ vows revenge for IOF murders in West Bank
In the wake of the Israeli occupation forces' killing of two senior Islamic Jihad (PIJ) figures in Jenin, occupied West Bank, the PIJ issued a statement condemning the IOF's actions and vowing revenge.
"The blood of martyr Farouk Salameh will open the gates of hell for the occupation's leaders," the resistance movement said in a statement after the IOF killed senior officials during confrontations in the Jenin refugee camp of the West Bank.
"The cowardly assassination will not break the will of our freedom fighters in the Jenin Brigade," the PIJ added. The murder "will constitute a motive to continue holding the first line of defense for our land and people, avenge the blood of our martyrs, and we will not rest until the occupation perishes."
With the two martyrs in Jenin, the toll rose to four martyrs in one day after Amer Bader Halabiyeh (20 years old) from Hanina and Mahmoud Khalil Rayan (42 years old) from Beit Duqqu were brutally killed by the Israeli occupation forces.
The PIJ had issued a statement mourning the two martyrs, Farouk Jamil Salameh and Mohammad Samer Khalouf, who were martyred during an IOF raid on the Jenin refugee camp earlier in the day.