Italy Supports the Reform Process of the President of Tunisia Saied, Describing it as "Ambitious"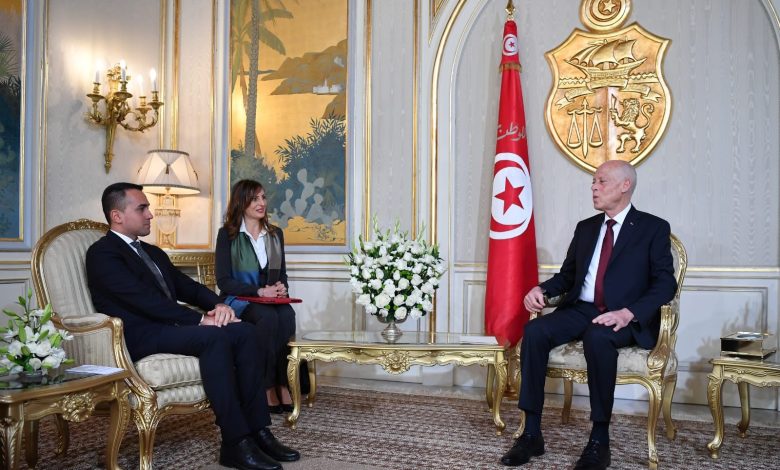 Italy announced, on Tuesday, its support for political reforms and the road map set by Tunisian President Kais Saied, according to which he decided to extend the suspension of parliament and hold a referendum on constitutional reforms in the summer, followed by legislative elections at the end of 2022, despite the condemnation of the internal opposition forces.
During his meeting with Kais Saied, the head of Italian diplomacy affirmed his country's understanding of the path of reforms, which he described as Saied's ambition, and its support for him, stressing the Italian government's adherence to friendship and cooperation relations with Tunisia.
This came in the words of its foreign minister, Luigi Di Maio, who started an official visit to Tunisia today to discuss bilateral relations and files, mainly the issues of illegal immigration and waste, during his meetings with the heads of state, Kais Saied and the government, Najla Boden, in addition to his Tunisian counterpart Othman Al-Grandi.
Hur included and transparent
He stressed the importance of continuing the path towards restoring the rule of law and the natural path of democracy, noting the need for this to be done through a comprehensive, transparent and tangible dialogue with all political and social components of the country, ensuring full respect for basic rights and promoting stability and economic growth.
The Italian official indicated his country's readiness to help Tunisia economically, adding that it moved with partners and the International Monetary Fund to stress the need to support Tunisia to overcome the economic situation it is going through, which has worsened due to the health situation.
For his part, the Tunisian President stressed Tunisia's strong keenness to have more solid relations with Italy in the future, noting that the traditional policies for managing the phenomenon of irregular migration have proven their limitations, calling for the need to formulate new joint perceptions that would encourage regular migration, according to mechanisms It guarantees the rights of migrants, as well as addressing the root causes of irregular migration, and addressing human trafficking networks on both sides of the Mediterranean.
Saied stressed the need to expedite the settlement of the Italian waste file in Tunisia as soon as possible, calling to think in the future about implementing cooperation programs between the two countries in the field of turning waste into a source of energy.