Joe Biden speech: Former vice president tells Trump "I'm not going anywhere" in Reno speech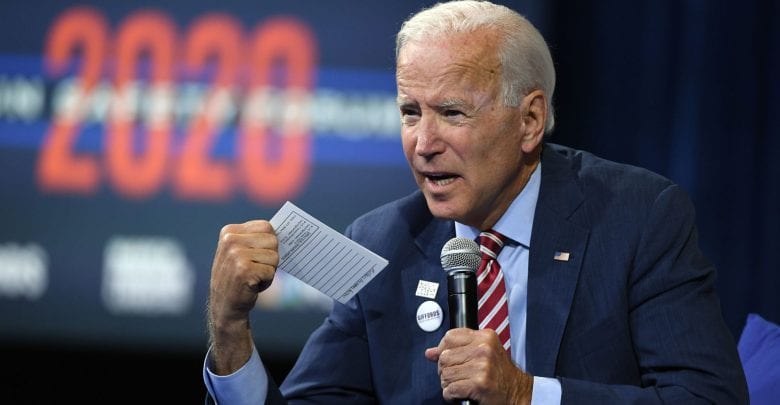 Joe Biden delivered his most forceful response to President Trump's attacks on him in a speech in Reno Wednesday, painting Mr. Trump as "wounded" and "desperate," on a day when Mr. Trump angrily attacked congressional Democrats over the impeachment inquiry and kept up his unsupported accusations of impropriety against Biden and his son Hunter, who was employed by an energy company in Ukraine. 
"Let me make something clear to Trump and his hatchet men and the special interests funding his attacks against me — I'm not going anywhere," Biden said, to applause from the crowd."You're not going to destroy me. And you're not going to destroy my family. I don't care how much money you spend or how dirty the attacks get."
For the first time since the president's efforts to seek damaging information about the Bidens' Ukraine connections were revealed, Biden explained his role in the Obama administration's Ukraine policy.
He said his goal was the opposite of what the president and his personal lawyer, Rudy Giuliani have said it was. "We weren't pressing Ukraine to get rid of a tough prosecutor," Biden said. "We were pressing them to replace a weak prosecutor who wouldn't do his job with someone who, at the time, we hoped would finally crack down on corruption."
Biden referred Mr. Trump's July 25 call with the Ukrainian president as an "abuse of power." He asked Americans to consider the "character" of the president, as he went down the list of Mr. Trump's recent actions.
"Desperate and defensive, Trump sends one crazed tweet after another, insinuating that the whistleblower should be executed, threatening to prosecute the chairman of the House Intelligence Committee, warning direly of civil war," Biden said.
The president has not offered any proof of his accusation that Biden asked a Ukrainian prosecutor to drop a probe involving Hunter Biden. According to the summary of a July call between President Trump and Ukrainian President Volodymyr Zelensky, Mr. Trump urged Zelensky to work with Giuliani and Attorney General William Barr to look into Biden. The White House had also, at the time of the call, withheld military aid to Ukraine, which has been fending off incursions by Russia-backed separatists.
House Speaker Nancy Pelosi has since ordered an impeachment inquiry stemming from the president's communications with Zelensky and his withholding of the military aid from Ukraine.