Kayed Saleh: November's enemies have no place, either with Algeria or with its enemies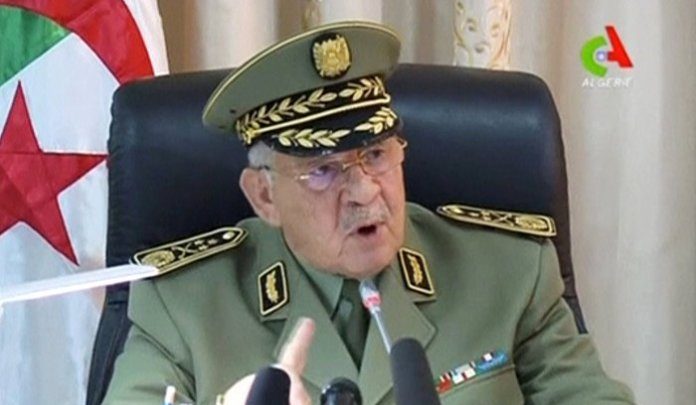 Lt. Gen. Ahmed Qaid Saleh, Deputy Minister of National Defense and Chief of Staff of the National People's Army, expressed his belief that the presidential elections "will take place within the time limits set for them" thanks to "the power of the people's perception of the hidden agenda of some well-known parties that have nothing to do with their interests" and that they will know the participation ". Strong and intense. "
Saleh criticized, during a speech on Wednesday, during the field visit, which led him to the fifth military area of ​​Constantine "those holding the stick from the center over the current crisis," according to the site, "an-Nahar" Algerian.
"There is no place for November's enemies in Algeria or for holding the stick from the middle," Saleh said.
"Under the current circumstances, it is either clearly with Algeria or with its enemies," Saleh said.
Saleh stressed that Algeria will emerge from its crisis and no one has the ability to stop it or disrupt the wheel of the country.
Lt. Gen. Qaid Saleh praised the performance of the government of Prime Minister Badawi, saying that it took over in difficult and unusual circumstances, adding that it was able to achieve many achievements on the ground.
Kaid said that the current stage is "a historic divergence, we ask God to write from the shareholders, accompanied by all the benevolent and reformers of the people of this good people, in laying the ship of Algeria to safety and security."
He continued, according to APS, that the Algerian people have "been able (…) so far to reach a very sensitive station in the history of Algeria, thanks to his consciousness and jealousy on his homeland, and take his responsibility fully in all seriousness and consciousness and determination to meet this challenge posed by this The hostile agenda above. "
He pointed out that "the most effective way to ensure the Algerian people to win all the bets present and future, is to pay attention to the repeated and continuing fallacies that are brazenly adopted by this stray fragmentation, which wants to impose its perverted vision on the majority of the Algerian people."