Laporta: Barcelona's negotiations for the renewal of Messi's contract are going well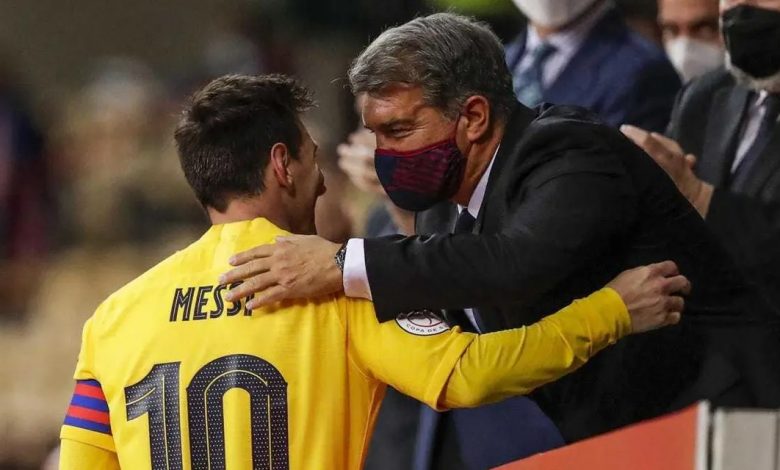 The Spanish football club Barcelona has expressed confidence in reaching an agreement on the conclusion of a new contract with the legendary forward Lionel Messi.
Messi has become a free player since his previous contract with the team expired on 1 July.
Although it has been waiting for a long time to reach a new agreement on more reasonable financial terms for the club Catalan, that is in difficulties, there are still obstacles.
Barcelona's resources remain very weak during the coronavirus pandemic, so La Liga will not allow new players to sign up until there is room for their salaries.
This means that the contracts of the club they will be delayed in 2021, including Messi's contract, because he is a free player.
He was promoted because next week could be crucial, especially with the start of the new season upon us, given that a turning point is expected before the friendly against Juventus. in program next Sunday. Speaking today, Monday, during the presentation of Emerson Royal, Laporta said: "Regarding Leo, things are going well." "We are trying to resolve the crises that need to be resolved, they are important, of course, but we are working to resolve them," he added.
Despite the addition of Memphis Depay and Sergio Aguero, Messi is set to remain the main striker. Messi participated in 937 goals in 778 matches with Barcelona and scored at least 30 goals in 13 consecutive seasons. Messi has scored ten or more goals in championship in 15 consecutive seasons, making him the competition's historic top scorer with 474 goals. Only Cristiano Ronaldo is the only player to have scored more goals than Messi in the top five European leagues with 476 goals.