Lavrov-Dahlan meeting: Moscow visit could pave way to rearrange Fatah issues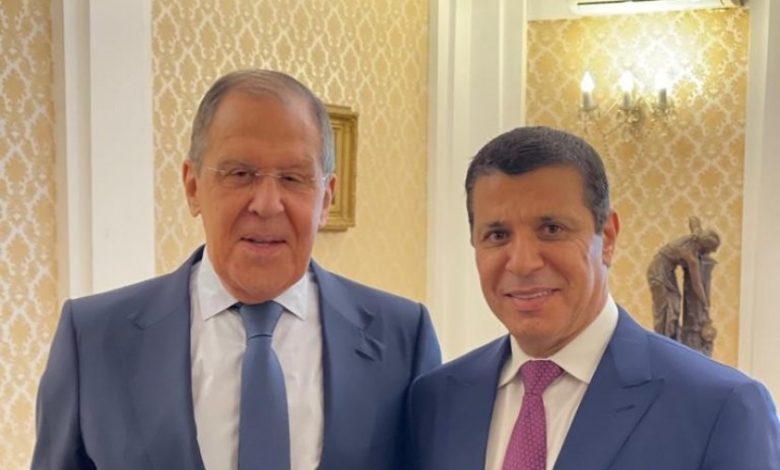 Mohammed Dahlan, the leader of the Palestinian "Democratic Reform Movement," met with Russian Foreign Minister Sergey Lavrov in Moscow on Tuesday in Moscow "November 2, 2021".
During the visit, Dahlan and two officials from his Democratic Reform Movement, a dissident Fatah group, met with Russian Foreign Minister Sergey Lavrov and his deputy, Michael Bogdanov. The two officials who accompanied Dahlan are Samir Mashharawi and Ja'far Hdeib.
National Authority spokesman Nabil Abu Rudeineh said that Abbas's planned visit to Moscow for talks with Russian President Vladimir Putin, he did not disclose its date, only saying "to discuss support for the Palestinian cause," as if it was an indirect response to Dahlan's visit.
This meeting is the first of Dahlan – Lavrov, to be held publicly in Moscow, is of great importance, especially since Palestinian sources close to the "Democratic Reform Movement," said that Fatah leader and his assistance made previous unannounced visits and met senior officials in Moscow, which confirms the extent of the understanding between the two sides.
Dahlan's visit to Russia at this time canceled many speculations and guesses that spoke of a political siege on the reformist leader in the Fatah movement, launched by forces belongs to Turkey and Qatar. This denies many rumors that have spread about him in recent while.
The denial of rumors from Moscow's opinion is a shock to those who insulted Dahlan in the past, as few statements put him in the category of the United States and that US itطs official sponsor, so the visit will have reflections on their claims about him, also will show the importance and role of Dahlan in the Palestinian role.
Mashharawi said that the talks in Moscow were important because they came at a time when the PA leadership was continuing to wage war on Dahlan's group because of its demand for reform in Fatah. The meeting, Mashharawi added, reflects the importance and presence of the Democratic Reform Movement in Fatah.
According to Mashharawi, Israel has always tried to exploit the divisions among the Palestinians to argue that there is no Palestinian partner for peace.
Dimitri Diliani, a former Fatah leader who is close to Dahlan, said in an interview with our reporters that Russian Foreign Minister Sergey Lavrov is mediating and making efforts to end the "Fatah rift" between the "Dahlan stream" and Fatah.
Diliani said the meeting was not the first as it was preceded by meetings between Dahlan and Russian leadership, which were not revealed to the media.
He pointed out that the meeting took place because of a Russian invitation, in which internal reconciliation in Fatah and the Palestinian national reconciliation between Fatah and Hamas were discussed.
Diliani indicated that Dahlan immediately announced his "readiness for internal reconciliation."
He said Dahlan told Lavrov that internal reconciliation "is a Fatah and patriotic necessity, and we are ready for it immediately, provided that it is based on organizational foundations, and its mainstay is the movement's internal system and moving away from exclusivity in decisions and marginalization of organizational structures."
Diliani noted that "there is Russian interest in internal reconciliation," and "it can be said that there is a high Russian effort."
He noted the meeting took place before an upcoming visit by Abbas to Moscow.
"We expect that the Russian side will discuss the issue of reconciliation with Abbas, and we do not know what his reaction to that will be, but we hope that the efforts will be crowned with success," said Diliani.
Regarding national reconciliation between Fatah and Hamas, Diliani said, "Dahlan expressed his readiness to work for its success, to form a unity government and to go to comprehensive elections."
He said: "There are efforts in this area, and there are steps that have been completed in the Gaza Strip, especially in the file of societal reconciliation, and it is required that Abbas join it."
A political and geographical division has prevailed in the Palestinian Authority's territories since 2007, which erupted following a victory by Hamas in legislative elections.
Fatah has since ruled the West Bank, while Hamas has run the Gaza Strip. And many efforts have failed to end the conflict between the two movements.
Moscow is trying to activate the Quartet, which consists of the US, Russia, United Nations and European Union – as a main broker in future peace talks between Israel and the Palestinians.