Libyan Fears of Renewed Militia Conflict, Supreme Council criticizes Dabaiba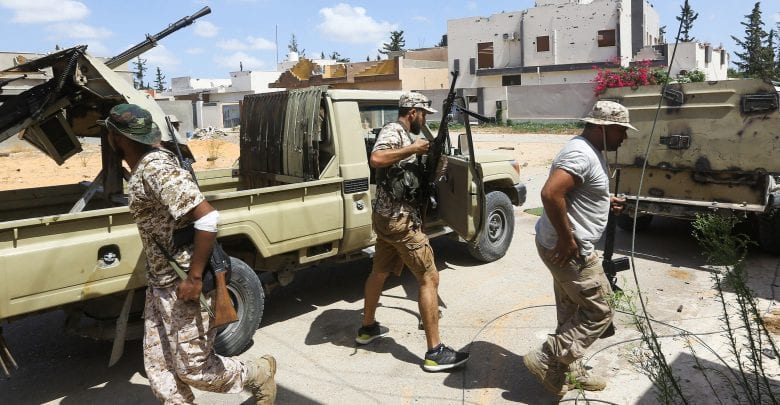 The Libyan capital is currently on alert for a number of militias in support of the Prime Minister of the Unity Government, Abdel Hamid Dabaiba, while fears are growing of the return of armed conflict to the country that has not known peace since 2011.
During the past hours, armed groups from Misurata, located about 200 kilometers east of the capital, rallied to support Dabaiba, who refuses to cede power despite the parliament's election of a new prime minister a few days ago, according to Agency France-Presse.
Al-Mishri criticizes Dabaiba
Simultaneously, Khaled Al-Mashri, head of the Libyan High Council of State, which serves as a second chamber of parliament based in Tripoli, strongly criticized Dabaiba.
He accused him of launching a "campaign directed against the House of Representatives and the Supreme Council of State, taking a distance from the government in Tripoli, and bypassing the traditional divisions between the east and west of the country."
He explained that the text accompanying the vote of confidence last March for the government of Abdel Hamid al-Dabaiba " stipulated in Article Two that the term of the national unity government would be a maximum of December 24, 2021."
He also defended, in a televised statement, yesterday evening, Saturday, the appointment of a new prime minister to the parliament, which is meeting in the east.
He also added that the appointment of the influential former Minister of the Interior, Fathi Bashagha, to succeed Dabaiba was based on that text and based on "a consensus between the Supreme Council of State and the House of Representatives."
"Authorization expired"
It is noteworthy that Dabaiba was appointed head of the interim government last year, after years of war and following a dialogue sponsored by the United Nations, and assigned the leadership of the country until holding presidential and parliamentary elections that are supposed to complete the transitional phase that began after the fall of Muammar Gaddafi's regime in 2011.
Therefore, the House of Representatives considered that the mandate granted to the unity government had expired, and therefore it became necessary to appoint a new government. Pursuant to this principle, he has elected Bashagha as prime minister a few days ago, provided that he will be given confidence in a future session.
However, the continuing disagreements, especially over the legal basis for the elections, led to the postponement of the polls indefinitely, after it was scheduled for last December 24 (2021).
two prime ministers
Faced with this reality, Libya has become in front of two prime ministers, in an institutional predicament that is not new after the country was ruled for years by two competing governments based in the east and west.
But this time, the conflict is no longer between East and West, but rather between major actors from the two regions. Like Dabaiba, Bashagha hails from the city of Misurata.