Libyan National Army Launches "Ababil Birds" Operation to Free Tripoli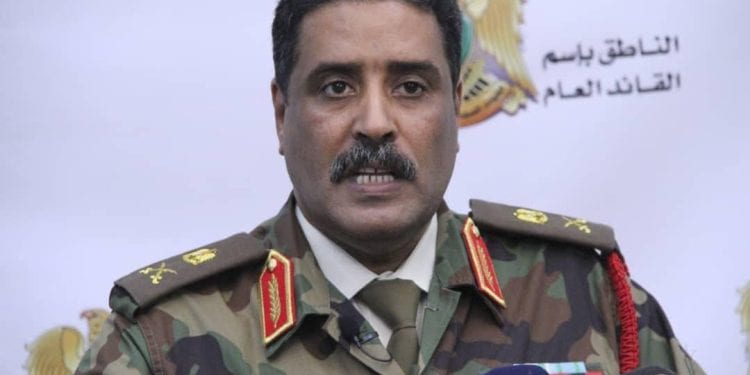 Libyan National Army announced late Wednesday launch of Operation Ababil Birds to liberate the capital city of Tripoli, according to LNA official statements. 
"We will enter Tripoli very soon. I will not share the details now. We will enter Tripoli with the will of its youth," said Major-General Ahmed al-Mismari, the official spokesperson of the LNA.
In a press conference, al-Mismari said that "Our strikes today are only a part and the beginning of our surprises for Turkish President Recep Tayyip Erdogan."
He added that "We invite the great Libyan people to wait for the pleasant surprises that will prevent terrorist organizations and Erdogan's plans  to divide Libya."
"Our strikes today are only the beginning," he stressed. 
During the weekly conference, the LNA spokesman revealed that the armed forces arrested many militants following the Al-Wattia attack.
#LNA Spox
Our strikes today are only a part and the beginning of our surprises for (( #Erdogan )) .!
Earlier, some Special Forces of the Libyan National Army, headed by Field Marshal Khalifa Haftar, headed west from Benghazi to join the remaining military units in the fighting axes in the west of the country of Libya.
The spokesman for the Commander-in-Chief of the Armed Forces mourned death of eight members of the armed forces during the counter-attack operation, which was launched by the Turkish-backed militias of the Government of National Accord, GNA, on Aqba Bin Nafeh base in Al-Wattia on Tuesday.
On Tuesday, the armed forces managed to thwart an attack by the GNA militia to storm the Aqba Bin Nafeh Air Force Base in Al-Wattia, 140 km west of the capital, Tripoli.
This base is the most important military air base for the armed forces in western Libya, and Al-Masmari confirmed that the armed forces fought a historic battle at the Aqba Bin Nafeh base in Al-Wattia, during which they killed dozens of takfiris from Erdogan's followers and arrested dozens of them.
"We totally eliminated the enemy" Al-Mismari said. He added, "What we did is good news for Erdogan and his allies, and they have to wait for more."