Macron directed a series of criticisms to Erdogan and his expansion policy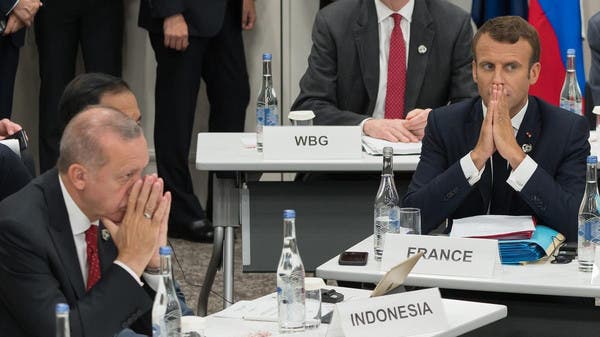 In an interview published on Thursday, Macron said that his Turkish counterpart is pursuing an "expansionist policy that is inconsistent with European interests," which constitutes a "destabilizing factor" for Europe.
Amidst the continuing European-Turkish tension, especially with France, French President Emmanuel Macron directed a series of criticisms to his Turkish counterpart, Erdogan, and Its expansion and expansion policy, He considered that his policy constitutes a destabilizing factor in the region.
He added, in an interview with Paris Match magazine, that "Europe must address these matters head-on and assume responsibility. I am not in favor of escalation. But, in parallel, I do not believe in weak diplomacy. We have sent a signal that European solidarity is of great importance. meaning of".
An upcoming meeting with Merkel
The interview was published hours before the upcoming meeting between Macron and German Chancellor Angela Merkel, who will be his guest in Fort Briggson, the summer residence of the presidency in southeastern France.
These statements came amid a sharp deterioration in relations between Turkey and the European Union in recent months, at a time when Ankara is acting as an expansionist regional power in the eastern Mediterranean.
Erdogan and the pirates
On Wednesday, Erdogan pledged not to yield to what he described as "pirates", and to continue exploring energy sources in disputed waters in the eastern Mediterranean.
While both announced Greece And Cyprus, that the European Council is discussing a list of sanctions that could be imposed on Turkey due to its repeated violations, especially in the eastern Mediterranean.
و .كد The foreign ministers of Greece and Cyprus That "illegal Turkish behavior will be discussed when the leaders of the seven Mediterranean countries meet in the European Union in September, and then at a full summit of EU leaders.
They also stressed that "these Turkish excavations are condemned and illegal, considering that" Ankaras calls for dialogue are not serious.
Last week, Turkey accused France of acting like a "thug" in the eastern Mediterranean, and issued a strong warning to Greece, after Paris deployed two military planes and two warships in the eastern Mediterranean in support of Athens.