Mohamed Salah Has Mastered The Art Of The 'Trivela Pass' And It's Now His Signature Move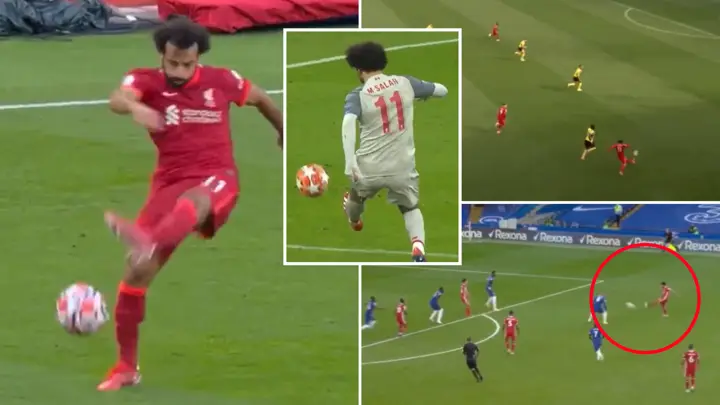 Mohamed Salah has become a master of the 'trivela pass' in recent seasons and watching him perform it is poetry in motion.
The Liverpool winger is often praised for his goalscoring prowess, but it's worth paying attention to his other talents.
Salah registered an assist against Watford last month with a delightful outside the boot pass for Sadio Mane to slide home.
@PassLikeThiago's compilation proves it isn't just a fluke, but a skill Salah has perfected over a number of years.
For those old enough to remember, Ricardo Quaresma was the king of the 'trivela' and seeing him whip it out on international duty was always special.
The Portugal star was a showboat by nature and even managed to grab a few goals with the technique.
Salah is making a claim for the throne now however, with the world class defences of Chelsea and Bayern Munich being bamboozled by it.
Fans have commented on the video with praise for Salah, who is one of the best players in world football right now.
One said: "His outside foot pass is so inconvenient but gives opponent an element of surprise since they wont see it coming."
Another added: "This man is absolute beauty to watch and yet people hate him just because of the club he plays. Pathetic people."
While a third put: "Some said he is not a playmaker and can't dribble, he's proved everybody wrong."
The 29-year-old has scored 15 goals in 15 games this season while providing six assists and it's caught the eye of another European heavyweight.
El Nacional claim new Barcelona boss Xavi is a big fan of Salah and wants him at the Camp Nou no matter the cost.
Salah's contract is up in 2023 and the man himself wants to spend the rest of his career at Anfield.
"If you ask me, I would love to stay until the last day of my football career, but I can't say much about that – it's not in my hands," he told Sky Sports. "It depends on what the club want, not on me.
"At the moment I can't see myself ever playing against Liverpool. That would make me sad. It's hard, I don't want to talk about it, but it would make me really sad.
"At the moment I don't see myself playing against Liverpool but let's see what will happen in the future."