Morocco's Left-Wing Protest Demanding Better Social inequalities, Human Rights Conditions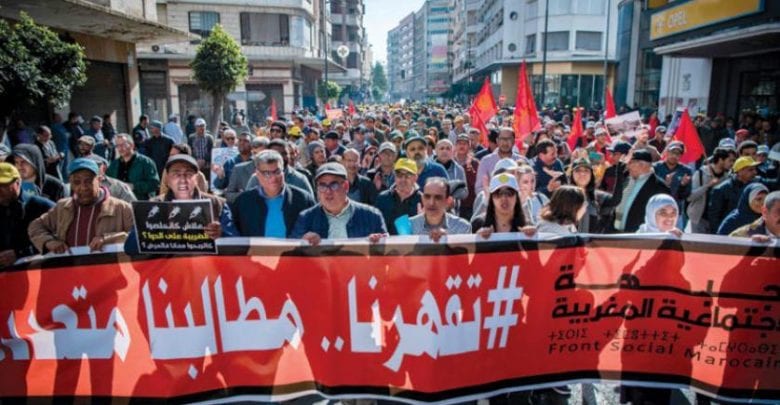 Morocco's protesters stormed the streets of the capital on Sunday protesting social inequalities and demanding the release of "political prisoners" and the establishment of 'real democracy".  
The demonstration was organized by the Moroccan Social Front (FSM), a recently created movement formed of four left-wing parties, unions, and civil organizations.
This is FSM's first organized protest, member of the FSM's national bureau Ali Boutwala told Arab-observer, stressing that it aims at "rejecting anti-democratic policies, social injustice, the decline in human rights and policies that led to the deterioration of purchasing power."
Demonstrators strongly protest against unemployment, high cost of living, and the decline in public services, calling for "the release of all political prisoners," especially those detained in the Rif protests.
Protesters raised large banners and red flags before dispersing. Their march was organized in line with the anniversary of February 20 protest movement that shook Morocco in 2011, during the Arab spring.
A few months ago, King Mohammed VI pledged to formulate a "new development model" in response to the deep social discontent that has given rise to resentment among Moroccans.
Regarding freedoms, the authority says it has succeeded in achieving a democratic transition after 2011, thanks to constitutional reform, and rejects criticism by human rights defenders.
It is noteworthy that this social movement, which rocked northern Morocco between 2016 and 2017, subsided after a wave of arrests, followed by cruel court decisions against protest leaders.
In June 2018, a court in Casablanca sentenced 39 people, including protest leader Nasser Zefzafi, to terms of up to 20 years in jail in connection with the protest movement.