Netanyahu: 'Israel' at war
While Israeli PM Benjamin Netanyahu vows an unprecedented price, an Israeli minister suggests an alternative perspective.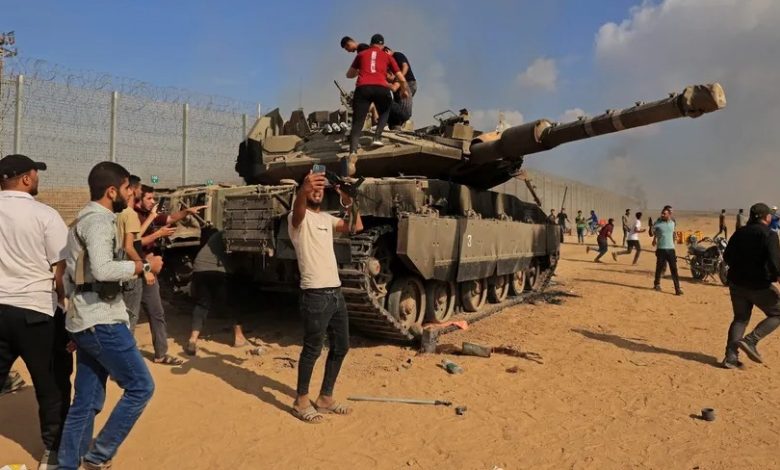 Israeli Prime Minister Benjamin Netanyahu acknowledged on Saturday that Israel is in a state of conflict, citing a "surprise attack" initiated by Hamas earlier in the day.
In a recorded statement released several hours after the Palestinian Resistance launched Operation Al-Aqsa Flood, Netanyahu confirmed that he had convened top Israeli security officials and ordered the neutralization of Palestinian Resistance fighters who had entered settlements in the Gaza envelope.
Simultaneously, he announced the initiation of an extensive mobilization of reserve forces to respond with a level of scale and intensity that the enemy had not previously encountered. Netanyahu stated, "The enemy will face an unprecedented price."
However, in contrast to Netanyahu's assertions, an Israeli government minister cautioned in an interview with the Israeli Ynet news website that there was a reasonable possibility that the events in the southern region might be a diversion from a potential conflict in the north, referring to the border with Lebanon.
The minister suggested that the Israeli army might be drawn to the south, potentially diverting resources from a more significant confrontation in the north, a scenario not experienced by Israel in decades.
Earlier, Mohammad Deif, the Commander-in-Chief of the al-Qassam Brigades, the military wing of Hamas, had announced the launch of Operation Al-Aqsa Flood following a series of rocket attacks and an infiltration operation into settlements in the Gaza Envelope.
The Palestinian Resistance in Gaza had fired volleys of rockets toward illegal Israeli settlements, including "Bat Yam" and "Rishon LeZiyyon" south of Tel Aviv. Sirens were activated in the Gaza envelope settlements and Tel Aviv, while the Iron Dome system attempted to intercept the rockets, according to our reporters.
Additionally, Israeli media reported that Palestinian Resistance fighters had breached the separation barrier and reached the vicinity of the "Urim" settlement, where they opened fire on a settler's vehicle. Injuries were reported due to a shooting at the "Urim" junction in northern Al-Naqab and western "Ofakim."
In response to the assault, Israeli authorities opened shelters in Tel Aviv and Ashdod due to the extensive rocket fire from the Gaza Strip, as reported by the Israeli army's radio.
Furthermore, our correspondent reported that the Palestinian Resistance had successfully captured several Israeli soldiers for the first time in history and had infiltrated occupation settlements with jeeps, gaining control of areas within them.
The Resistance's operation occurred in the context of ongoing violations against Palestinians in the occupied West Bank and Jerusalem, as well as a suffocating siege on the Gaza Strip.