Over 150 Medics killed, 27 Ambulances Destroyed by Israeli Airstrikes
16 hospitals and 32 primary healthcare centers had to cease their operations due to Israeli strikes.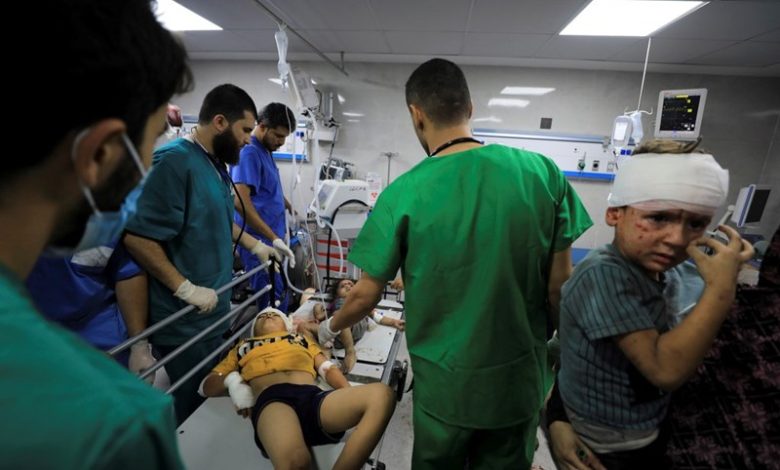 According to Palestinian Health Minister Mai al-Kaila, Israeli strikes in the Gaza Strip have led to the loss of over 150 healthcare workers' lives and the destruction of 27 ambulances.
"Israeli crimes against the health care system of the Gaza Strip resulted in the death of 150 medical workers and the destruction and failure of 27 ambulances," al-Kaila said in a statement published by the Palestinian Health Ministry.
The Health Minister also reported that 16 hospitals and 32 primary healthcare centers had to cease their operations due to Israeli strikes.
"We were standing inside the hospital gate when the ambulance was directly hit in front of us. There were bloody bodies everywhere. Many were killed immediately, while we rushed others to the operating room for emergency care," says Dr Obaid, MSF doctor at Al Shifa hospital. pic.twitter.com/MrcVAPygz5

— MSF International (@MSF) November 4, 2023
The Israeli occupation continues to bombard residential areas, hospitals, ambulances, UN schools, as well as vital infrastructure in the Gaza Strip amid a stifling blockade that has banned the entry of vital resources, such as fuel, food, and medicine, with the health sector being seriously jeopardized by the stifling siege.
By the 29th day of the Israeli aggression on Gaza, the number of martyrs has reached 9,488, including 3,900 children and 2,509 women, as per the Gaza Ministry of Health. Additionally, there are 24,158 wounded individuals, with approximately 2,000 people still trapped under the debris, including 1,250 children.
Elsewhere in his remarks, he confirmed that Israeli warplanes hit Al-Fakhoura school in Jabalia refugee camp, killing 15 and wounding at least 70 of the forcibly displaced families who had taken shelter there.
Gaza Health Ministry spokesperson Ashraf Al-Qudra confirmed that "Israel" has committed a total of 1,006 massacres against Palestinian families, including 10 major massacres, leading to the tragic loss of 231 lives in the past few hours.
Al-Qudra emphasized that children, women, and the elderly make up 70% of the victims of the Israeli aggression.