Palestinians protest against the assassination of activist Nizar Banat death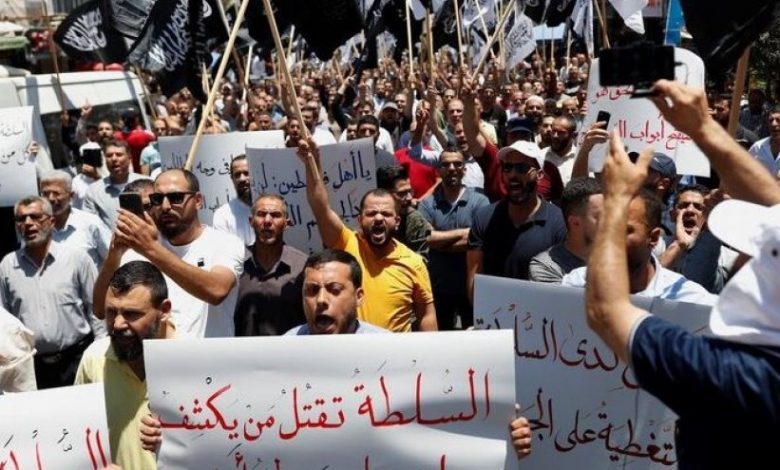 Palestinians and advocacy groups continued calling to protest on Wednesday for the recent death of activist Nizar Banat in the custody of Palestinian security forces, following days in which marchers braved beatings and intimidation to rally in cities across the West Bank.
In Ramallah, Hebron and Bethlehem, protesters have called for an independent investigation of the death of Nizar Banat, a vocal critic of the governing Palestinian Authority, and for President Mahmoud Abbas to step down from his 16-year rule.
Crowds waving Palestinian flags, pictures of Banat and calling for an end to Abbas's rule, have been met with brutal force from both Palestinian security forces and men in plain clothes loyal to Abbas's Fatah party. Clubs, metal rods, teargas to break up the demonstrations and stop reporters from documenting the events, according to the Palestinian journalists' union.
On Sunday, the left-wing Palestinian People's Party withdrew from the Fatah-led PA due to "its lack of respect for laws and public freedoms", the party said, which in effect meant the resignation of the PA's labour minister, Nasri Abu Jaish.
Justice Minister Mohammad Shalaldeh announced on Tuesday night that he had handed the commission's findings to prosecutors.
Banat's family has already said they will not accept the inquiry's results. Both the Banat family and a prominent Palestinian human rights group withdrew their representatives from the body, leaving only the Justice Ministry and the Palestinian Authority intelligence services to carry out the investigation, they added "We do not accept a crippled, hollow committee, most of whose elements represent the Palestinian Authority," 
former Palestinian Minister of Justice, Freeh Abu Madin, revealed violations and abuses committed in the investigation committee formed by the government in Ramallah regarding the assassination of opposition political activist Nizar Banat.
Abu Madin said on Facebook "it is not allowed for the president to contact the head of the investigation committee into the killing of Nizar Banat during the investigation."
He added that "this committee is not given that by the law, and its formation has fallen into disgrace, because the prime minister is the minister of interior and the integrity of the investigation will reach to investigate him, he should resign in order to achieve justice."
Independent human rights organizations and Banat family announced their withdrawal from the investigation committee organized by Prime Minister Muhammad Shtayyeh, after the wave of anger that followed the assassination of Banat by the security services of the authority.
Human rights groups have alleged that PA officers in civilian clothes deliberately targeted journalists to ensure that footage of the crackdowns did not reach the press.