President Kais Saied criticized for receiving six Daesh Tunisian children repatriated from Libya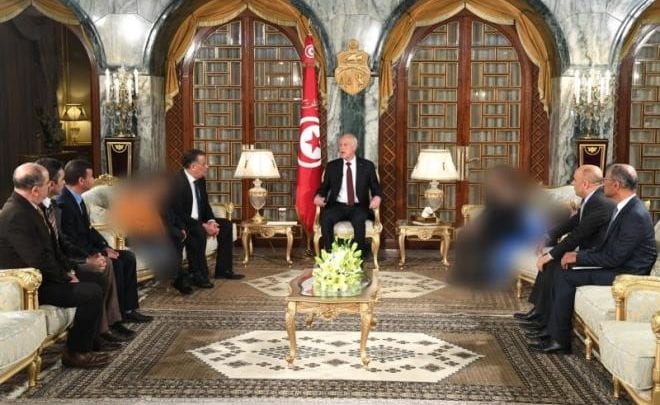 President Kais Saied on Thursday received at the Carthage Palace six Tunisian orphaned children who were repatriated from Libya tonight after being rescued, cared for and sheltered by the Libyan  Red Crescent in Misrata after the battle in 2016 in Sirte against the terrorist organisation Daech.
The Head of State stressed on this occasion the importance of speeding up taking all necessary measures by the relevant structures of the State to provide psychological assistance and health care to these children before they are handed over to their families, while continuing to provide them with the necessary supervision, said a statement by the Department of Information and Communication of the Presidency of the Republic.
The President of the Republic recommended continuing to follow up on this important issue in order to facilitate the return of the rest of the children stranded in Libya, voicing thanks to all those who have helped to ensure the return of these children, on the Tunisian and Libyan sides, in particular the Libyan Government of National Accord and the Libyan Red Crescent, "who have shown great cooperation for the success of this humanitarian operation.
"The issue of the return of the children stranded in Libya was closely followed by the President of the Republic, and one of the most important issues during his meeting with Chairman of the Presidential Council of the Libyan Government of National Accord, Fayez Sarraj, during his recent visit to Tunisia on December 10, 2019, where it was agreed between the two parties to ensure a rapid return of these children to their families in Tunisia," the statement added.
The president of the Tunisian Human Rights Observatory, Mustapha Abdelkabir, said earlier today that the six orphaned children of Tunisian fighters in Daech, aged between 4 and 12, were handed over to the Tunisian authorities in Libya on Thursday and were expected on Thursday evening at Tunis-Carthage airport from the Libyan airport of Misrata.
Abdelkabir said the children were in a nursery affiliated to the Libyan Red Crescent, a branch of Misrata, under the supervision of Libyan security authorities, noting that those authorities had ensured the process of handing them over to the Tunisian consul general as the responsible official authority.