President Sisi, Mohamed bin Zayed discuss joint cooperation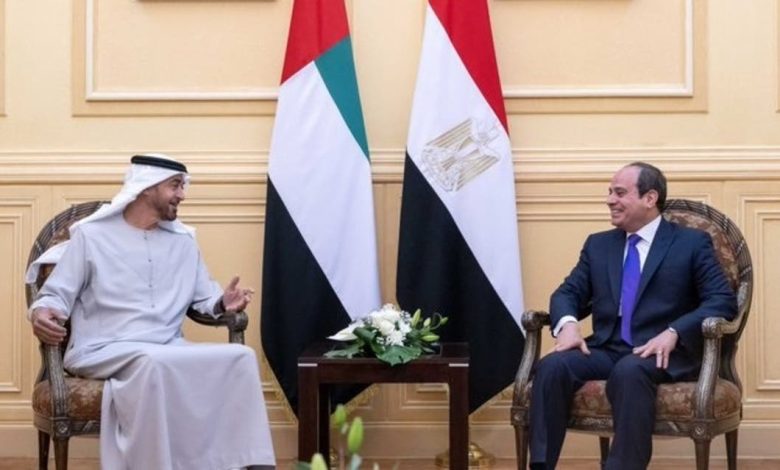 President Abdel Fattah El Sisi held official talks with Abu Dhabi Crown Prince and Deputy Supreme Commander of the UAE Armed Forces Sheikh Mohamed bin Zayed Al Nahyan who arrived in Egypt's Red Sea resort city of Sharm El-Sheikh on Monday.
Presidential spokesman Bassam Rady said at the beginning of the expanded session of talks which is attended by delegations from both countries, the president welcomed Sheikh Mohamed's visit and hailed historical relations binding the two countries and peoples.
The president expressed Egypt's keenness on boosting bilateral relations in various fields and intensifying meetings between the two countries' senior officials for coordination and exchange of viewpoints on the latest developments in the region and the across the world.
Sheikh Mohamed, for his part, thanked the president for the warm reception accorded to him, describing relations between the two sisterly countries as profound and very close.
He also praised Egypt's efforts to strengthen security and stability in the region and its good offices to promote joint Arab action at all levels.
Sheikh Mohamed hailed the progress in Egyptian-UAE relations at the political, economic and development levels expressing keenness on further strengthening bilateral ties.
The two leaders exchanged viewpoints on joint cooperation and expressed satisfaction with the level of coordination between the two countries, said the spokesman.
They stressed the importance of promoting cooperation for the benefit of the two countries and their peoples especially in the economic and investment fields and seizing all chances available for promoting integration.
The two leaders' talks also dealt with a wide range of regional and international issues, with both sides sharing the same views on handling many files and agreeing to exert more efforts to promote joint Arab action and protect Arab national security in the face of the growing challenges and threats besetting the region.
The president reiterated Egypt's commitment to serving the security of the Gulf region and expressed strong rejection of all attempts aimed at destabilizing Gulf countries.