Qatar takes 'legal action' against companies after unpaid salaries trigger rare protest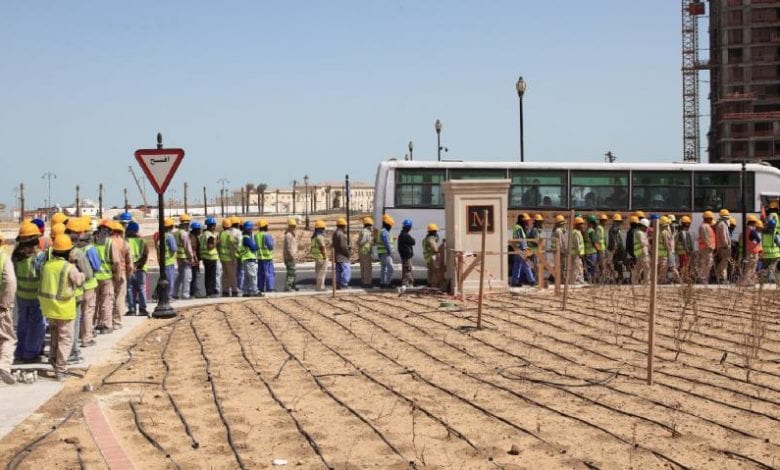 Migrant labourers staged a rare protest in Qatar over unpaid wages, the government said on Saturday, at a time of economic fallout from the coronavirus pandemic and rock-bottom oil prices.
"In response to the late settlement of salaries, a small number of expatriate workers conducted a peaceful protest in the Msheireb area on May 22," the labour ministry said in a statement.
Images on social media showed more than 100 men blocking a main road in the Msheireb district of the capital Doha late on Friday, clapping and chanting as police looked on.
"Following an immediate investigation (the ministry) has taken steps to ensure that all salaries will be promptly paid in the coming days."
Legal action has been taken against the companies involved in non-payment of salaries, it added.
Qatar, like other Gulf Arab states, rely on a vast population of foreign workers for jobs ranging from domestic help, construction work, to white-collar jobs.
Some 35 million labourers work in the six GCC states of Bahrain, Kuwait, Oman, Qatar, Saudi Arabia and the UAE, as well as Jordan and Lebanon, according to UN figures.
Almost 90 percent of Qatar's population are expatriate workers as the country completes dozens of mega-projects ahead of the 2022 World Cup.
Migrant Rights

@MigrantRights

A video of the workers striking, demanding payment of wages https://twitter.com/dm_harding/status/1264112973716520960 …

Protest by workers in #Qatar over unpaid wages. Took place in district of Doha called Msheireb, where many fans will stay during the World Cup. #Qatar2022 https://twitter.com/qnaenglish/status/1264022153810399237 …
Migrant workers across the region regularly face serious abuse, discrimination and racism from their Gulf counterparts.
Meanwhile, the coronavirus and its devastating economic impact have left many workers sick and others unemployed, unpaid and at the mercy of sometimes unscrupulous employers.
Earlier this month, police in Kuwait dispersed what they described as a riot by stranded Egyptians unable to return home amid the coronavirus pandemic, authorities said, the first reported sign of unrest from the region's vast population of foreign workers who have lost their jobs over the crisis.
Days later, an Egyptian man stranded in Saudi Arabia was arrested by security forces after threatening to protest in front of his country's embassy following weeks of failed attempts to return home.