Recep Tayyip Erdogan's assertive foreign policy shakes international order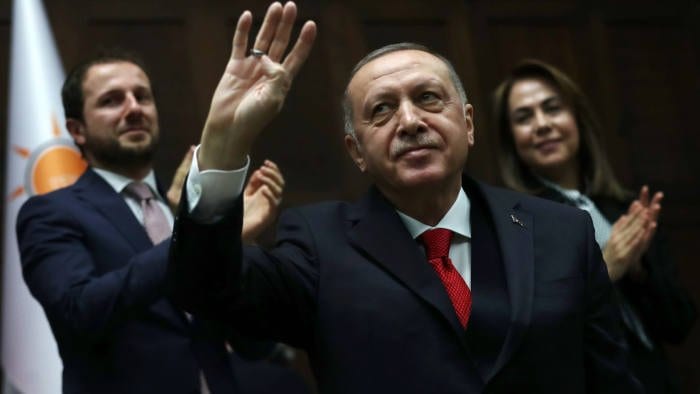 Fresh from a summit marking the 70th anniversary of Nato, Turkey's president Recep Tayyip Erdogan had a clear message about Ankara's resolve to be seen as an autonomous global power.
"Today, Turkey can launch an operation to protect its national security without seeking permission from anyone," he told members of Britain's Turkish community in London last month.
The statement was typical of the assertive, often unilateral foreign policy Mr Erdogan has pursued in recent years. In October, Turkey defied western allies, sending troops into north-eastern Syria against the wishes of Nato. Two months later the Turkish leader was vowing to deploy personnel to Libya even as the United Nations called on the world to respect an arms embargo.
Turkey's desire to gain greater influence in its neighbourhood is not new. But the increasingly bold pursuit of its goals has riled European and Arab leaders alike.
"Turkey seems to be growing more and more aggressive," said one European diplomat. "The issues have been piling up.
" Turkish troops and Syrian fighters on an operation in north-eastern Syria, where Turkey's incursion has angered its Nato allies © AP Turkish activism in the Middle East and north Africa grew after the start of the Arab uprisings that shook the region in 2011.
Betting that a new Islamist order was in the ascendant, Turkey funnelled support to rebel groups battling president Bashar al-Assad in Syria and rallied behind the Egyptian Muslim Brotherhood leader Mohamed Morsi.
Ankara hoped the interventions would help restore its influence in parts of the former Ottoman Empire, but the gamble failed. Russia came to the rescue of the Damascus regime and Mr Morsi was toppled in a popularly backed coup that brought to power Abdel-Fattah el-Sisi, who was supported by the UAE and Saudi Arabia.
A new approach favouring direct military action emerged, analysts say, after the failed coup against Mr Erdogan in 2016 weakened the autonomy of the army and enabled the Turkish president to bolster his own power.
Since then, Turkey has launched three separate military incursions into northern Syria, including October's controversial assault on Kurdish militias that had fought for the US against Isis.
Elsewhere, Ankara has taken sides in an Arab Gulf dispute, supporting Doha when Abu Dhabi and Riyadh led a regional embargo of Qatar; dispatched warships to block European oil companies from drilling for gas in the eastern Mediterranean; and defied the wishes of Nato allies by buying an air defence system from Moscow.
Mr Erdogan — who on Sunday began a visit to Algeria, Gambia and Senegal — has also sought to expand Turkey's footprint in Africa. The Turkish president's most surprising move yet was the decision last month to wade deeper into the Libyan conflict by sending military advisers — and Turkish-backed Syrian mercenaries — to support the besieged UN-backed government in Tripoli, once again putting Ankara on the opposing side to the UAE and Egypt.
The intervention secured Turkey's wish for a seat at the top table in talks on the future of the war-torn country but triggered stern rebukes from Washington and European capitals. It has also antagonised Gulf powers.
"Saudi Arabia and the UAE have the view of Turkey that it is becoming an enemy of sorts, a destabilising force," said Abdulkhaleq Abdulla, an Emirati commentator.
Fighters loyal to Libya's UN-backed government. Turkey has sent military advisers to help Tripoli © AFP via Getty Images Sinan Ulgen, a former Turkish diplomat who chairs the Istanbul-based think-tank Edam, said it was "inevitable" that any leader at Turkey's helm in recent years would have wanted to reassess the nation's place in a changing world. He said that western nations were partly to blame for the acrimonious nature of the shift, with the "collapse" of Ankara's relationship with the US and the "total ineffectiveness" of the EU as an alternative security partner for Ankara.
"As a result, Turkey felt it had to be more active in trying to address its own security concerns," he said. Mr Ulgen said that the acrimony caused by Turkey's foreign policy readjustment had been compounded by the erosion of fundamental freedoms in the country over the past decade, which has alarmed EU and US officials.
That domestic backdrop had made it "much more difficult" for Turkey to smoothly navigate changes in its international relations, he said.
Recommended Global InsightMichael Peel Europe frets over migration as Turkey and Russia gain Libya sway Foreign policy has also become increasingly intertwined with domestic politics, as Mr Erdogan has often sought to antagonise western nations to buttress public support.
Having once courted EU membership, many Turkish officials now view Europe with contempt and doubt if Brussels was ever serious about admitting Turkey to the bloc. Railing against EU statements that Turkish efforts to drill for gas in waters near Cyprus were illegal, one senior official asked: "Why do they get the right to decide?" But even if that stance resonates widely in Turkey, Mr Erdogan is constrained by his country's continued reliance on the west as a trade partner and source of foreign investment.
That was vividly illustrated in 2018 when the country was plunged into a currency crisis after US president Donald Trump imposed economic sanctions to force the resolution of a diplomatic dispute.
"Turkey is diversifying its partners in security and defence but not in economy," said Ilke Toygur, an analyst at the Elcano Royal Institute, a Madrid-based think-tank. "So if it damages its relationship [with the west] because of its security interests or unilateral moves, it also risks becoming economically vulnerable."