Sadat Bakr reveals Involvement of government figures in the Turkish regime with terrorist organizations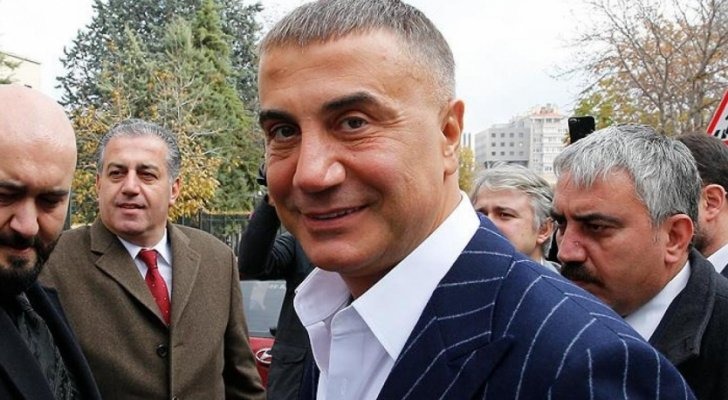 The videos posted by the Turkish mafia leader, Sadat Bakr, in which he alleges "the involvement of government figures close to Erdogan, in murders and drug trafficking," has become the most watched of any popular Turkish series during the past few days.
In the eight clips so far, Bakr accuses powerful figures in the Turkish government of murder, rape, arms and drug smuggling, extortion and manipulation of the media.
According to Bakr, who decided to "uncover the hidden," the alleged activities are taking place in commercial centers, hotels, beaches, casinos and squares in Istanbul and Ankara and include killings outside Turkey's borders.
His videos disturbed the balance of power within the Turkish state by pitting rival groups against each other. Bakr also notes that the alleged illegal activities include Turkey, Syria, Russia, Azerbaijan, Colombia and Venezuela.
What are the accusations made by Bakr against Turkish officials, headed by the current and former Interior Minister Suleiman Soylu, Muhammad Agar, and other politicians?
Bakr claims that it was the current Turkish Interior Minister, Suleiman Soylu, who helped him last year to flee Turkey by informing him that he was targeted by the Turkish police, which enabled him to flee outside the country before his arrest.
Referring to the murders that occurred in the 1990s, Bakr said that he sent his brother, Attila Bakr, to kill a Turkish Cypriot journalist named Kutlu Adali in 1996, at the request of former Interior Minister Mohamed Agar. He also claimed that Lagar had a hand in the 1993 murder of another prominent opposition journalist, Ugur Momjo.
The Cypriot journalist was already killed in 1996 and the killers have not been reached yet.
Also among the victims of the killing, Sawash Boldan, husband of Parvin Boldan, is the current co-leader of the pro-Kurdish HDP in Turkey.
Concurrent with the publication of the videos, the Court of Appeal decided to retry the former Minister Mohamed Aghar, along with 17 others who were acquitted in 2019 of murders whose mysteries have not been resolved since the 1990s.
Soylu, who is close to President Recep Tayyip Erdogan, denied Bakr's allegations and said that "the videos are part of an international scheme," and that these allegations are completely null and "aimed at the Turkish state." He called for an investigation into his allegations, accusing Bakr of defaming and defaming him.
Bakr, who is 49 years old, had served several prison terms in Turkey on charges including fraud, running criminal gangs and drug trafficking.
Erdogan said his party, the Justice and Development Party (AKP), had brought peace to Turkey by fighting gangsters like Bakr and that he would "frustrate this dirty scenario as well."
But he fled the country last year to Dubai after learning that he would be arrested by the police.
"revenge"
Bakr claims that his move at this time is a revenge for the police ill-treatment of his sons and his family during a raid on his home under the pretext of investigating his gang's activity.
Bakr alleges that the Minister of Interior informed him so that he could flee the country before a dispute arose between them.
Bakr fled first to the Balkans, then Morocco, and finally settled in Dubai, where he began pouring out his anger on the minister and other personalities by launching these videos.
Bakr succeeded in striking some of his enemies, and the government of Recep Tayyip Erdogan and those close to it became in an unenviable position, so no one knows who is the next target in his video series.
The mafia leader said, Soylu used it as a political tool against Albayraq acquittals Erdogan's son-in-law, who was Minister of Finance, is part of the smear campaign against Al-Bayraq.
The decline in the popularity of Erdogan and his party
According to a poll conducted by the Turkish Opinion Polling Institute "Metropole", support for the AKP has decreased by 33 percent since the last elections in June 2018.
The Turkish government is trying to revive the country's struggling economy, while the mafia leader surprised them by revealing the state's secrets and secrets.
Now, Erdogan and Soylu must clarify their position and deal with the declining popularity of Erdogan and his party in opinion polls.
Bakr knows exactly how to provoke his opponents. In one of his videos directed at his "enemies," he tells them: "You will be defeated by this camera and its three-legged base."
But Bakr did not target President Erdogan's rule and did not yet utter a word directly against him. He still speaks of the president respectfully, referring to him as "good big brother."
He also speaks sympathetically of the leaders of the Turkish opposition.
"Central state with limited democracy"
"A lot is happening behind the scenes. The state is very centralized and has limited democratic checks and balances. But there is a constant balance between the deep state groups," BBC journalist Gunay Yildiz says in Turkish politics.
He adds that these power groups, or as they are called in Turkey as the "deep state", are "a secret organization that includes military and civilians within the state where the security services have a major role in determining the state's policy."
Bakr realizes that the real center of power does not necessarily lie in the elected government. The Turkish people invented the term "deep state" to refer to the real decision makers.
Bakr says he published videos defaming Erdogan's son-in-law, and only stopped doing so after Soylu asked him to do so.
It appears that this is not the first time that Bakr has said that he has fallen victim to the rivalry between Soylu and Albayrak, who are vying for influence in the corridors of power.
In one of his previous videos on YouTube, Bakr said, directing his speech to Soylu: "Did you not incite me against the innocents of Albayrak? Did you not tell me that you do not rule Istanbul, but that Albayrak is the one who rules?"
The conversation that took place between the two reveals Bakr's close relationship, not only with Willow, but with all of his family.
The mafia leader posted a phone conversation he had with businessman Rashad Hajioglu, about whom Soylu said he was his friend.
Bakr says that so far, "he did a lot for Soylu and kept all his enemies from his way."
Soylu accused Bakr on May 19 of having links with Fethullah Gulen, who resides in the United States, and of being involved in a major drug smuggling scheme.
"But you have always praised Gulen, and even your advisors praised him," Bakr said in response to Soylu's accusation.
The drug trade is at the highest levels
Among the allegations made by Bakr is that the son of former prime minister Ben Ali Yildirim, police chief and former minister Mehmet Agar, is part of an international scheme to smuggle drugs into Turkey.
Bakr spoke about the seizure of drugs in Colombia on June 9 last year, as the Colombian authorities announced at that time that they had seized 4.9 tons of cocaine that was destined for Turkey.
"Cocaine used to come to Turkey via Colombia," Bakr said. "But when the Colombian authorities seized tons of cocaine, another new route had to be found."
"They sought refuge in Venezuela, whose border with Colombia is 800 km long. It is easy to smuggle it from Colombia to there because the Drug Enforcement Administration has no control there. There is also the Syrian port of Latakia, which is not under US control."
Bakr claimed that Ben Ali's son Yildirim stayed in Venezuela for four days, trying to find alternative routes to transport cocaine.
He claimed that cocaine smuggled into Turkey is being distributed to yachts, adding that smuggling is also taking place through the port of Latakia on the Syrian coast.
Supporting terrorism in Syria"
Bakr hinted repeatedly that he would reveal some other "mistakes" made by prominent government figures related to the ongoing conflict in Syria.
He said, "I will make your news headlines for international newspapers."
"This increasingly frequent suggestion is not a coincidence, but rather reflects the fact that the current power bloc is crumbling," says journalist and commentator Roshin Shakir in a tweet.
Demands for the dismissal of the Minister of the Interior
In the wake of the spread of these videos, leaders of the Turkish opposition parties demanded the immediate dismissal of Süleyman Soylu.
The leader of the Future Party, Ahmet Davutoglu, said: "It seems that the Minister of Interior is unable to resign. He should be dismissed without waiting a minute, and judicial procedures must begin immediately, as the gangs of the 1990s cannot rule Turkey."
"Soylu should submit his resignation as soon as possible," said Akram Imamoglu, mayor of Istanbul and a senior official of the opposition Republican People's Party. "This is how the investigation process should begin."
Mustafa Yeneroglu, a deputy in the Turkish Parliament for the Party of Democracy and Progress, said: "Interior Minister Suleiman Soylu cannot continue his duties in light of these accusations and he must resign immediately."