Sadiq Gharyani and others on the Bahraini terrorist lists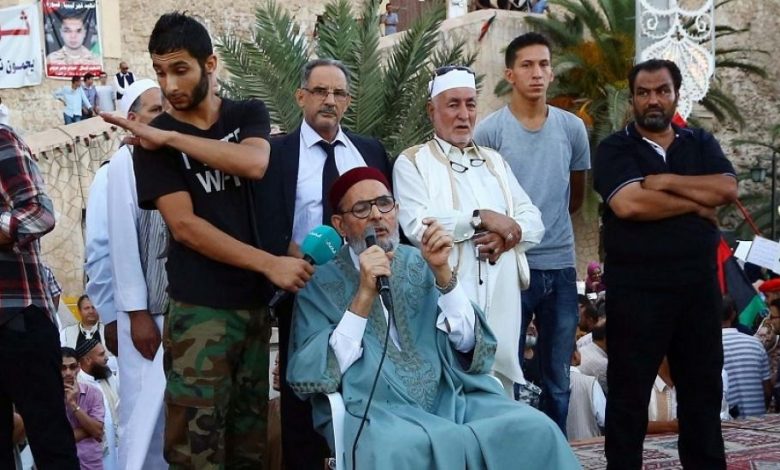 The Kingdom of Bahrain has published a national list on terrorism in its Official Gazette, on combating money laundering and terrorist financing against natural and legal figures. The list contains individuals, organizations and media groups, including 7 Libyan individuals and entities.
The authorities called on Bahrain's executive authority to act immediately on this list, as well as implement the decisions of the UN Security Council under Chapter VII of the Charter United Nations on the prevention and suppression of terrorism and its financing.
The list published in the Bahrain Official Gazette on 6 July 6 included 7 Libyan figures, including Ali al-Sallabi, Ismail al-Sallabi, Abdelhakim Belhaj, Sadiq al-Gharyani, Mahdi al-Harati, Ahmed Abd al-Jaleel al-Hasnawi, Al-Saadi Abdullah Ibrahim Bukhazem, in addition to terrorists groups such as the Ansar al-Sharia in Benghazi and Derna, and the Libyan Islamic Fighting Group (LIFG), the organization of the Benghazi Revolutionaries Shura Council (BRSC), the Benghazi Defense Brigades (BDB), and a number of media arms of the terrorist groups that were active in Benghazi and Derna such as Al-Nabaa TV and al-Tanasuh channels.
With regards to the Libyan media institutions included in the note, we note that one of Al-Nabaa TV's former directors was non other than the current Minister of State for Communication and Political Affairs of the interim Government of National Unity (GNU), Walid al-Lafi. This television network, which was associated with the terrorist LIFG's Abdelhakim Belhaj, was classified as a platform that was supporting terrorist groups. Today, as a GNU Minister, Walid al-Lafi is responsible for the entire media file of the government and responsible for supporting elections.
Another key troublesome Libyan media organization on the list, that is well-known in Libya for promoting hate speech and aligning with the Muslim Brotherhood and designated terrorist groups, is the al-Tanasuh channel. This channel is directly affiliated to the radical Libyan Islamist cleric who lives in Turkey, Sadiq al-Gharyani—who was also mentioned on the list of terrorists published by the Bahrain government. Gharyani is well-known for inciting support for terrorist groups in Benghazi and Derna, and he even issued a fatwa permitting Islamist fighters from committing suicide attacks.
The list also includes leading figures of the Muslim Brotherhood in Egypt and Qatar, as well as other terrorists from Iran, Yemen and Lebanon.