Security forces peacefully prevent demonstrators calling for dissolution of parliament, from accessing Bardo Square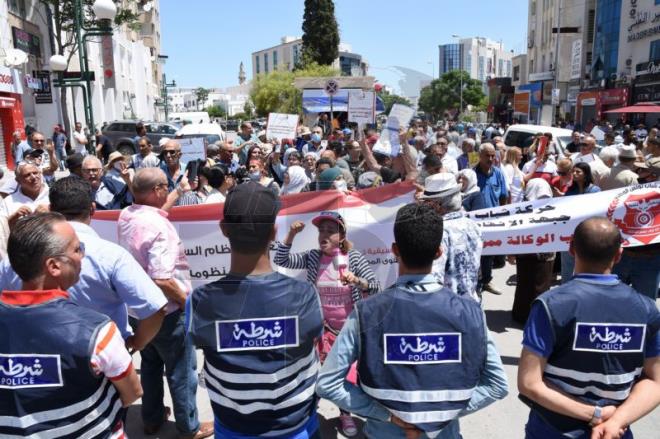 Security  Security  Security  Security  Security  Security  Security  Some 60 demonstrators gathered Sunday morning in Bardo but the large security presence prevented them from accessing the square.
They accused the Tunisian Parliament of interfering in regional issues, devoting plenary sessions and wasting time on matters that, in their view, were of no interest to Tunisians, criticising Speaker Rached Ghannouchi and denouncing his interference in Libyan affairs.
The demonstrators raised banners and shouted slogans calling for the dissolution of the Parliament, which they said had become a popular demand because of its "poor performance," particularly its lack of interest in key national issues, including fight against unemployment, poverty and all forms of marginalisation and social injustice.
The group of demonstrators also denounced the violation of the constitutionally guaranteed right to demonstrate peacefully.
Spokesman for the Al Hirak National Salvation Front of June 14 Fathi Warfali told our reporters that "the demonstrators had been harassed and prevented from protesting peacefully in front of the Parliament, criticising the Ennahda movement which is using state bodies (Ministry of Interior and Bardo Municipality) to ban demonstrations by closing all roads leading to the Bardo Square.
Buses carrying protesters from Tunis had been prevented from getting to Bardo, he added, saying the demonstration permission had been cancelled at the last moment.
He announced that a call for civil disobedience will be issued if the demands of the National Salvation Front remain unsatisfied.
Since early June, there have been calls to dissolve the Parliament and to stage sit-ins in the Bardo Square by the following three movements: The 1st of June Coordination chaired by lawyer and political activist Imad bin Halima, the January 14 Front created a few days ago and the National Salvation Front of June 14.