Soaring energy prices testing tolerance of British society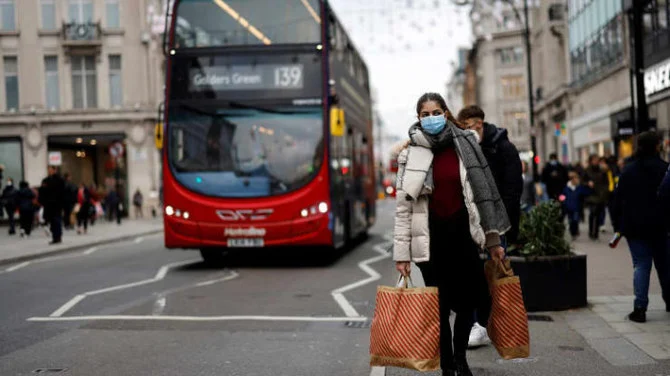 The traditional British predisposition toward politeness, understatement and conflict-avoidance are presently being tested to the limit in face of the ever-rising cost of living and, in particular, the recent meteoric increases in energy prices.
A campaign group called Don't Pay UK is calling on people to cancel their direct debit payments to energy companies from Oct. 1, the day on which energy market regulator Ofgem is due to raise the energy price cap yet again. It has already attracted more than 110,000 signatures of support.
The organizers of the online campaign aim to get at least 1 million people to join this very 21st-century mass pressure group at a time when families are buckling under the pressure of increasing costs of food, transport, housing and, above all, insane hikes in energy bills.
Are we heading toward a moment when ordinary Brits will take to the streets en masse to show their defiance in face of the extortionate prices of gas and electricity, not because they don't want to pay but because they can no longer afford to pay?
Inflation in the UK is running at 10.1 percent and the Bank of England expects it to hit 13 percent within a few months. Worse, the nation's economy has contracted and will most likely fall into recession very soon. Those who live on wages are not protected and, according to the Office for National Statistics, their pay now lags behind inflation at record levels. These are not only the conditions for a perfect economic storm but a recipe for social meltdown.
This combination of economic pointers can only be regarded as the worst possible scenario for ordinary families, especially those who are seeing the value of their wages eroded by the day, and for small businesses that have just started to recover from more than two years of the COVID-19 pandemic and are still adapting to the consequences of Brexit.
Meanwhile, rubbing salt into these wounds, the energy companies are announcing record profits.
There are striking similarities between the current socioeconomic situation and the fiasco of the UK's much-maligned 1990 Community Charge proposal for local taxation, popularly known as the "poll tax," which sent hundreds of thousands of people onto the streets in one of the most violent protests in the country's history.
As was the case with the poll tax, the energy price hikes, beyond their very tangible effect of making millions of people much poorer, are offensive to another British characteristic: The people's sense of fair play and justice.
Like the poll tax, soaring energy bills represent a social injustice that disproportionately punishes those who are worse off. It goes against the very principle of fairness in a progressive society that the government and its agencies are introducing policies without any consideration for their impact on those who are already struggling to get by, and whose education, health and life expectancy will be negatively affected for many years to come.
High energy prices threaten to erode the quality and the unity of British society and push it to breaking point.

Yossi Mekelberg
Is it a coincidence that both of these socially insensitive and politically suicidal policies, separated by more than 30 years, emerged from a Conservative government that has been in power for more than a decade, is deeply divided, and whose leader is in the twilight of their premiership? That was the case with the Tories under Margaret Thatcher in 1990, and is the case with the party under Boris Johnson now.
No, it is probably not a coincidence, as the party is too embroiled in its own internal affairs, licking its wounds from decades of infighting over Europe, and is now resorting to its most basic instincts, which are to protect big business and impose regressive taxes.
There are times when even the most ardent free marketeers must accept that leaving market forces to their own machinations only exacerbates an already intolerable situation. With the raising of the cap on energy prices, an average household bill that stood at £1,400 a year in October 2021 is set to rise by up to 200 percent to £4,200 in January 2023.
Expecting the public to accept this lying down shows a colossal level of government detachment from the people. When the Johnson administration finally took steps in July to ease some of the hardship caused by rising energy bills, it was a case of too little, too late. Its introduction of a windfall tax on oil and gas producers came months after the Labour opposition first demanded it, and exposed the Conservative government as being devoid of ideas of its own and acting with little sense of conviction or long-term strategy.
The result of all this has been the spontaneous emergence of protest campaigns, some of them organized online, of which Don't Pay UK is only one. Another is Enough Is Enough, which was founded by trade unions and community organizations. It calls on employers and the government to effect "a real pay rise, slash energy bills, end food poverty, (provide) decent homes for all and tax the rich." It is a cause that has so far received 300,000 signatures of support and will be promoted by 50 rallies planned across the UK.
For now, the country is in a holding pattern while about 160,000 members of the Conservative Party, in their graciousness, are in the process of electing the country's next prime minister on behalf of the other 67 million citizens of the UK.
Absent during all of this, by choice, has been the departing prime minister. Johnson is barely visible, washing his hands of any responsibility and ignoring the plight of millions who are facing the steepest decline in their standard of living for decades.
For a country that endured hundreds of years of struggle to (almost) move itself away from a class-based society, widespread poverty and other inequalities, the current increase in the cost of living — and soaring energy bills in particular — is underlining once again the inequalities that remain and are increasingly hurting the most vulnerable in society: People who this winter will have to make hard choices between heating their homes or having cooked meals. People who will have to literally remain in the dark or not use the computers that are now essential to their children's education.
This situation is nothing but shameful in one of the world's richest countries, which prides itself on its welfare system. Not only that, it also threatens to erode the quality and the unity of British society and push it to the breaking point.
There is not only a sense that people in the UK are heading for a repeat of the poll tax debacle, but also a feeling that they are in similar territory to the 1978-79 "Winter of Discontent," during which high inflation, political chaos, economic uncertainty and widespread industrial action brought the country to a standstill while uncollected trash piled up in the streets and people were forced to live with nationwide power blackouts.
When households are facing such bleak financial times, while at the same time daily headlines remind Britishers that the likes of Shell, BP and British Gas are posting record profits and handsomely rewarding their bosses and shareholders, it is no surprise to see placards such as those on display during a recent demonstration that warn the government: "Either we get a pay rise or we rise."
• Yossi Mekelberg