Sudan rejects an Ethiopian proposal to sign a partial agreement on the Renaissance Dam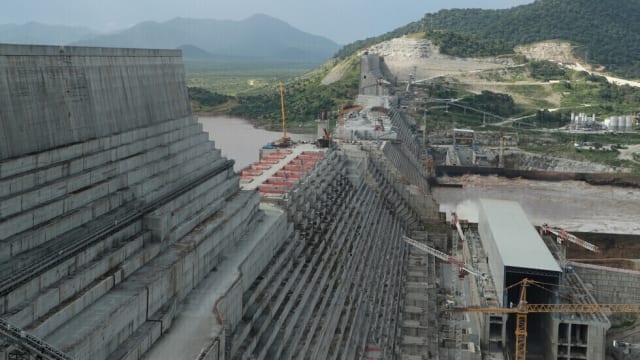 Sudanese Ministry of Irrigation and Water Resources announced today, Tuesday, that Sudan rejected Ethiopia's proposal to sign a partial agreement to fill the Renaissance Dam Lake, which is expected to start next July.
In a written statement distributed to the media, the ministry said that Sudanese Prime Minister Abdullah Hamduk informed the Ethiopian Prime Minister Abi Ahmed of that in a letter in response to a letter from him related to the Ethiopian proposal.
He explained that Khartoum believes that the current conditions may not allow negotiations through regular diplomatic channels, but can be resumed through digital conferences, "video conferencing", and other technology means to complete the negotiation process and agree on the remaining points.
Hamdouk said, in a message responding to his Ethiopian counterpart, related to the proposal to sign a partial filling agreement, that the way to reach a comprehensive agreement is the immediate resumption of negotiations, which have made great progress during the past four months, stressing in his letter his position on reaching a tripartite agreement between Sudan, Egypt and Ethiopia. .
In turn, the head of the negotiating committee, head of the technical body for water resources, and the official for transit water affairs at the Sudanese Ministry of Irrigation, Saleh Hamad, explained that "most of the issues are under negotiation, the most important of which is the coordination mechanism, data exchange, dam safety, and environmental and social impacts, closely related, not only to the first filling but to all The stages of filling and long-term operation are therefore inseparable.
He revealed moves by Khartoum to resume the negotiation process by referring to the Washington track that cut about 90% of the points of disagreement.
The Sudanese official referred to the phone call made by Hamdok to the US Secretary of the Treasury last March, which Washington negotiated rounds took place under his auspices, and his support for Khartoum's actions.
Addis Ababa had announced that it would not participate in the negotiations of the Renaissance Dam, which was scheduled to be hosted by Washington, to study proposals from the US Treasury on the draft agreement on the filling and operation of the Renaissance Dam, and announced the start of storing 4.9 billion cubic meters of water from the Nile River in July.
Cairo insists on adhering to the reference of Washington's path to the rules for filling and operating the Renaissance Dam, and what was agreed upon in this path, and the declaration of principles signed between the three countries in the year 2015.