Tunisian Brotherhood Coup: Kais Saied vows to fight 'TRAITORS'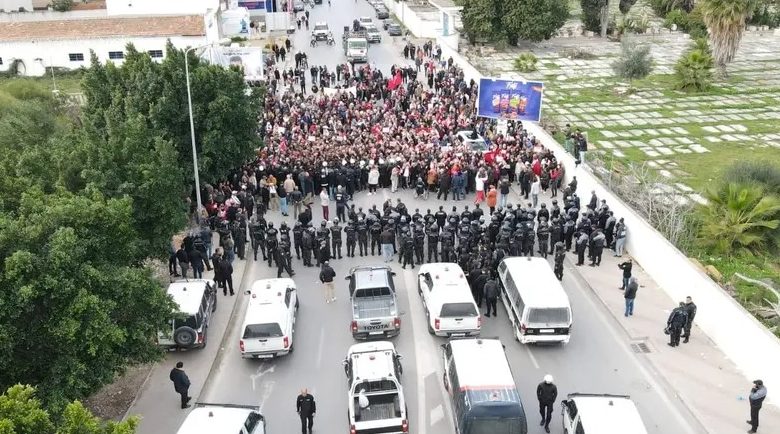 Ennahda brotherhood movement and its allies from the "Salvation Front" announced the organization of a demonstration today, Saturday, from "Al-Basaj" Square to Al-Thawra Street, and it published video clips on its Facebook page of a number of its leaders calling for protests in Tunisia, while the president responded to the Attempts to spread chaos and terrorism, saying that "there is no place for traitors and agents in the country."
The demonstration calls coincide with the investigations that affected its leaders in cases related to the "deportation of terrorists" from Tunisia to Syria and Iraq, the secret apparatus of the Brotherhood, and other cases related to corruption and money laundering, in which a number of its leaders were convicted.
The movement and its allies tried through these sporadic and dispersed protest movements to distract the street and put pressure on the government with new protests, which include violence, chaos and calls for foreign intervention in Tunisia.
The Brotherhood movement benefited from the 12th anniversary of the fall of the regime of the late President Zine El Abidine Ben Ali, to pass its chaotic project and incitement against Tunisian President Kais Saied and the course of reforms that establishes a new phase in the country.
Hours before these protests, President Kais Saied wandered, on Friday evening, on Habib Bourguiba Street, and said that "there is no place for traitors in the country," adding that "those who accuses police of dictatorship are the ones who want to destroy it."
Saied is proceeding with the implementation of the road map that he set, despite the criticism at him about the low turnout during the first round of the parliamentary elections and the calls for postponement.
He called on Prime Minister Naglaa Boden to prepare for the second round of the elections, which is scheduled to take place on January 29.
A few days ago, Saied accused the Brotherhood movement of "standing behind the crises" in the country, and of trying to strike state institutions. That "these conditions cannot continue, and they will not remain without punishment within the framework of the law."