Tunisian coalition "Sumod" reveals shocking facts about Brotherhood activities in Tunisia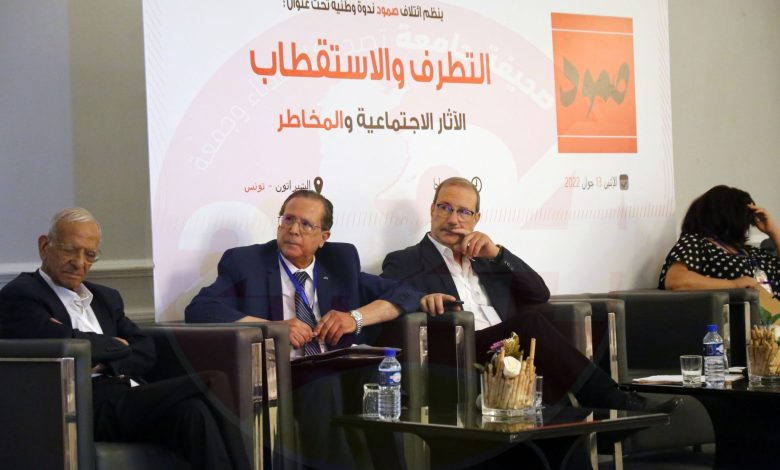 Hossam El-Hami, the national coordinator of the "Sumoud" coalition (a civic coalition includes non-governmental associations), said that Tunisia has lived through the past ten years a very dangerous situation related to attracting children and young people training them on terrorism, takfir and travel towards hotbeds of terrorism.
A symposium organized by the coalition, under the title "Extremism and Polarization: Social Effects and Risks", "Al-Hami" stressed that "the Tunisian Brotherhood, represented by Ennahda Movement and the previous governments allied with them, provided protection for extremist associations and allowed them to carry out their activities in all their ways without accountability or oversight."
He pointed out that about 4,000 extremist associations, schools, institutes and Brotherhood organizations such as the International Union of Muslim Scholars are still continuing their activities in Tunisia, despite the marked decline in terrorist operations and the manifestations of those activities, especially after the decisions of July 25 (July) 2021.
Ghannouchi was prevented from traveling and a similar decision was taken against a Tunisian brotherhood accused of "terrorism".
Al-Hami revealed that only 30 observers affiliated with the intervening ministries monitor the activities of these schools, institutes, associations of Brotherhood organizations, indicating that the monitoring process happens once within 7 years.
It is noteworthy that there are approximately 1,800 writers affiliated with the Ministry of Religious Affairs in Tunisia, about 600 Koranic schools affiliated with the Tunisian League for the Defense of the Holy Qur'an, 300 Islamic Koranic societies, and 600 Koranic schools affiliated with charitable societies, as well as random Koranic schools.
The number of beneficiaries from these schools, institutes, and Quranic societies that are not properly supervised is estimated to be about 55,000 who are involved in Tunis alone.
With the exception of Quranic schools that are subject to an educational program proposed by the Ministry of Religious Affairs, the rest of the activities for teaching Quran and religion are not subject to a clear pedagogical arrangement and are not properly monitored.