Turkey, Greece and France jockey for position in post-war Syria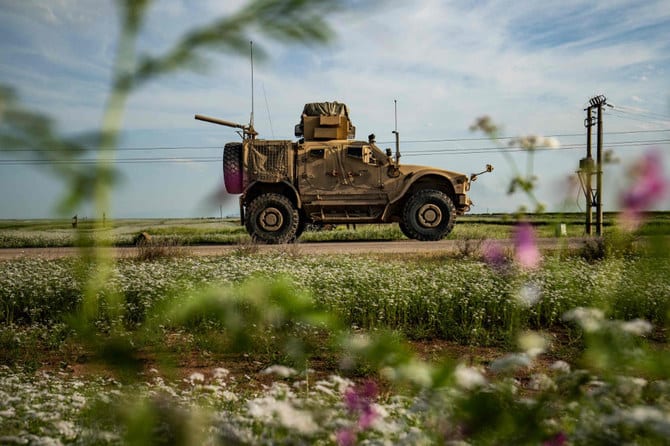 The deep-rooted political disputes in the Eastern Mediterranean over natural gas, and the ongoing tension between opposing camps in Libya have reignited old rivalries in the region, and are having a considerable effect on the situation in Syria.
This week, France held talks with Kurdish parties in northeastern Syria, a move likely to rub salt in the wounds caused by escalating tensions between Turkey and France over Libya and Syria. The talks were part of an effort to unify Syrian Kurds in preparation for a potential peace settlement in the war-torn country.
A report on news site Rudaw, which is based in Iraqi Kurdistan, cited local sources as saying the French delegation met representatives of the parties that form the Kurdish National Alliance, and then members of the Democratic Union Party, which Ankara considers a terrorist organization. These were not the first meetings between Syrian Kurdish groups and French delegates — France hosted Syrian-Kurdish delegations in Paris last year — but divided opinions among Kurds about the fate of Assad mean that previous mediation efforts failed to promote Kurdish unity.
According to observers, the recent talks — which were held in secret with no statement released in the aftermath — is a little sign of a possible success. Should France succeed in uniting the Kurds, it will not only seek to use the credit it receives for this accomplishment to politically influence post-war Syria, but also to confront Turkey about its increased presence in Libya.
Relations between Turkey and France increasingly have been strained in recent years, mainly because of divergent policies on the region. France has been the most outspoken critic within the EU of Turkey's role in Syria. For example, President Emmanuel Macron criticized the military offensive launched by Ankara in northern Syria in October 2019. In response, Turkish Foreign Minister Mevlut Cavusoglu accused Macron of sponsoring terrorism. In 2018, Syrian Kurdish militias urged France to take a more active role in the conflict, with French military forces later arriving in Kurdish-controlled areas.
Ankara and Paris are also at odds on the conflict in Libya, where they support different sides. In January, Ankara and Paris blamed each other for the instability in the country.
As tempers flare, diplomatic moves are taking place behind the scenes as nations at loggerheads attempt to gain whatever leverage they can against each other.

Sinem Cengiz
Just as the rivalry between Turkey and France in Libya has repercussions in Syria, so too does the dispute between Turkey and Greece in the Eastern Mediterranean. In an another Western attempt to gain a foothold in post-war Syria, Greek Foreign Minister Nikos Dendias on Tuesday announced that Tassia Athanassiou has been appointed special envoy to the country. She served as ambassador to Damascus from 2009 to 2012, when the Greek diplomatic mission was suspended as the war began. The ministry said she will be responsible for Greece's humanitarian response in Syria, and coordinating her country's involvement in the rebuilding process.
Her appointment, which was interpreted by observers as highly strategic, is an indication that Athens wants to normalize relations ahead of talks about post-war Syria. Both countries have strained relationships with Turkey due to differences of opinion on a number of issues. Greece and Syria historically have been on good terms and even signed a defense agreement in 1993 as a response to the threat from Turkey when Ankara was on brink of war with both of its neighbors.
The recent Greek decision to re-establish diplomatic relations with Syria comes amid increasingly strained relations between Athens and Ankara over each other's actions in the Eastern Mediterranean, and escalating tensions in Libya and the wider region. According to media reports in Greece, the move is expected to tip the balance of power in the Eastern Mediterranean further in Athens' favor.
Greece is not limiting its diplomatic outreach to Syria. Greek forces joined French and American troops during a joint military exercise in February, for example. France further strengthened its military presence in the Eastern Mediterranean with the deployment of the aircraft carrier Charles de Gaulle as a show of support for Greece in its dispute with Turkey.
As European states try to best position themselves for the post-war phase in Syria, there have been reports suggesting that Astana peace process partners Russia, Turkey and Iran are approaching a consensus on the removal from power of Bashar Assad and a ceasefire agreement, in return for the formation of a transitional government that includes representatives from the opposition, the regime and the Syrian Democratic Forces. These reports were denied, however, as were claims that the Russian International Affairs Council, an institution close to Russian leadership, had published such a statement regarding Assad's fate.
It is clear, therefore, that the ongoing conflicts in the region have become so deeply entwined that the tensions in the Eastern Mediterranean are felt in Syria and vice versa. As tempers flare, diplomatic moves are taking place behind the scenes as nations at loggerheads attempt to gain whatever leverage they can against each other.
 By:
• Sinem Cengiz