Turkish lira drops to a new historical level against US dollar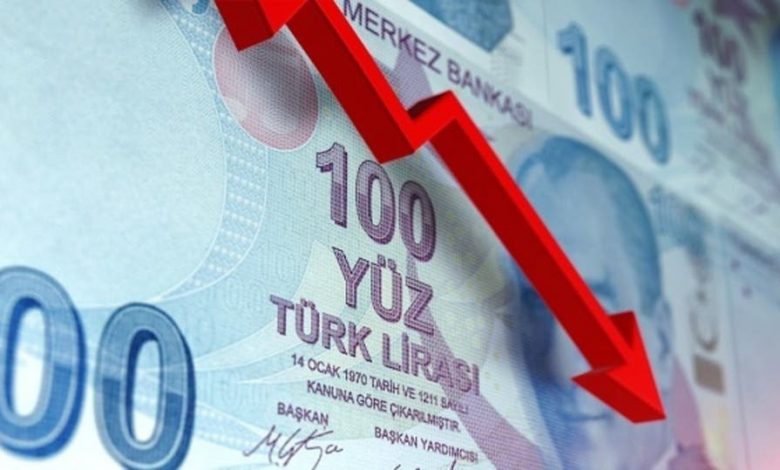 The value of the Turkish lira, which has been in a sharp decline for weeks, fell to a new record, on Wednesday, to reach 14.7 lira against the dollar, on the eve of a decision by the Central Bank on interest rates.
Since January 1, when its value was 7.43 liras per dollar, the Turkish currency has lost more than 49 percent of its value against the greenback, including 30 percent in November alone.
At a time when the inflation rate in November exceeded 21 percent on an annual basis, Turkish President Recep Tayyip Erdogan refused to raise interest rates and adjust his fiscal policy.
On Thursday, the Turkish Central Bank is expected to announce a decision on the key interest rate.
Erdogan, whose popularity has fallen to its lowest after 19 years in power, appears to be betting on economic growth at any cost before the presidential elections scheduled for 2023, according to our reporters.
And last month, the bank again reduced the rate by one percentage point (from 16 to 15 percent) for the third time in less than two months, at the request of the country's president, who asserts, contrary to traditional economic theories, that high interest rates perpetuate price hikes.
But for Turks, the collapse of the currency and the rise in prices are unsustainable, as the country relies heavily on imports, especially raw materials and energy.
This much-criticized financial policy and the dependence of the Central Bank, which Erdogan has dismissed three of its rulers since 2019, are causing the currency to depreciate, but the Turkish president warned, in late November, that he would continue to "resist pressure", denouncing a "conspiracy" targeting the economy. Turkish.
He said at the time: "We see very well the game of some people with the exchange rate, currencies, interest rates and rising prices."
A senior Western official said that "Erdogan is convinced of the correctness of his fiscal policy and does not intend to abandon it."
The official, who declined to be named, told AFP that "Erdogan is acting freely … there is no longer anyone around him to confront his core belief, whether it is related to his religious principles or his (like) merchant's way of thinking or a combination of the two: he believes Seriously, that would work."
In addition to his dismissal of three central bank governors since 2019, the Turkish president has replaced the Minister of Finance three times since 2018, the last of them on October 2, in the midst of the crisis.
On Sunday, more than five thousand people demonstrated in Istanbul to protest against inflation and the decline in purchasing power, in the first large gathering due to the turmoil that the Turkish economy has been going through for weeks.