Turkish lira in 2nd Currency Crisis in 2 Years and hits record low
Fall comes after central bank spent billions in effort to defend currency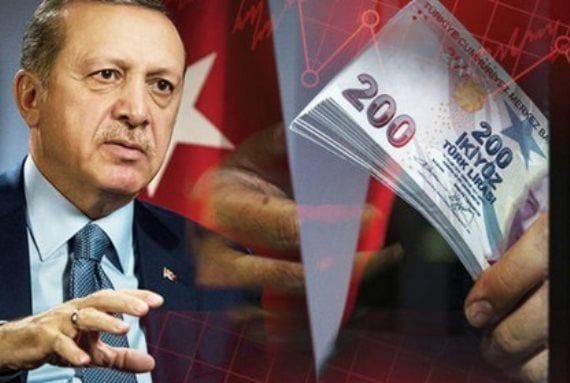 Turkish lira tumbled to a record low on Thursday, despite efforts by the central bank to reassure investors that the country's economy is recovering from the coronavirus pandemic.
The currency burst through previous lows set in May this year and in a crisis that took hold in the summer of 2018 to reach TL7.3079 against the dollar, buckling after authorities had succeeded in propping up the lira earlier this year with huge sales of its dwindling foreign-currency reserves.
The 3.6 per cent decline to the lowest point of the day marked a second day of intense selling after signs of dysfunction in the country's money markets this week, prompting investors and analysts to speculate whether the central bank may need to raise interest rates to inject some stability.
Stocks also fell by more than 5 per cent in the heaviest fall since mid-March. "Something has to change," said Paul McNamara, emerging market portfolio manager at GAM in London.
The country's interventions in the foreign exchange market, and other tools that have been deployed to make it harder to sell the lira appear to be "exhausted", he said, meaning "some response is required". "Whether that's administrative controls or rate hikes — or something else — is difficult to call with this government," he said. After hours of declines in the currency on Thursday, the central bank issued a statement saying that the country's "economic recovery has gained pace".
It added that "price developments in the markets are being closely monitored" and that it "stands ready" to take action.
The currency dipped further after the statement before picking up slightly.
Turkish president, Recep Tayyip Erdogan, has a clear preference for easy monetary policy. In the past 12 months, Turkey's key rate has dropped 15.75 percentage points, with substantial cuts that started long before coronavirus hit and unleashed devastating effects on the country's crucial tourism industry.
But that risks letting inflation run uncomfortably hot, in a cycle that is exacerbated when the weak currency pumps up import prices. Through most of June and July, Turkish authorities pinned the dollar to just under TL6.85, even while the lira tumbled against other currencies.
Goldman Sachs estimates that to do this, the central bank spent $65bn of its foreign currency reserves in the first six months of the year, far beyond the $40bn that it spent in the whole of last year.
But with other emerging-market currencies such as the South African rand also coming under pressure on Thursday, that defence has become increasingly difficult to maintain.
Taner Ozarslan, an economist at consultancy Sparta & Co in Istanbul, said that state banks appeared to have stepped back from supporting the lira, "aware they could lose serious resources by intervening at a time when reserves are already depleted . . .
The state banks are seriously outgunned," he said. Dirk Willer, an emerging markets currency strategist at Citigroup, said the decline in the central bank's dollar reserves and deteriorating fundamentals pointed to a "bumpy journey" for the lira that could force the central bank to raise rates this year.
On Wednesday, Citi said it expected the lira to sink to TL7.25 within three months, a target that has already been breached, and then TL7.75 within a year.
Arab Observer