Turkish Regime authorities investigating 30 tweets.. they promoted Erdogan's deteriorating health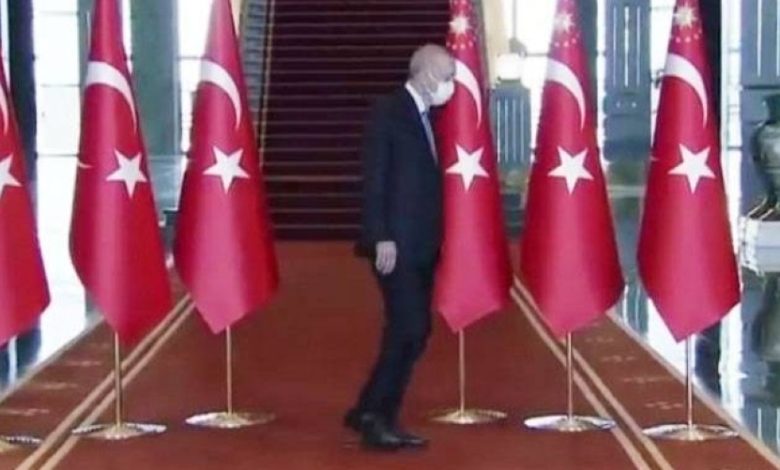 The Turkish Regime authorities have launched an investigation with 30 bloggers who discussed the deteriorating health of Turkish Regime President Recep Tayyip Erdogan through tweets on Twitter after a video of him reeling and unable to walk.
The General Directorate of Security of Turkey stated that "the social media posts about President Erdogan's health are baseless."
She also indicated that legal measures were taken against 30 people who spread "misleading information", as she put it, according to what was reported by CNN Turk today, Wednesday.
'insulted his dignity'
The activists' tweets came after the Turkish president appeared in a video spread on social media and media, as he walked in a strange way, in which he seemed unable to continue walking to the point that he almost stumbled and fell.
The directorate's statement referred to the posts made on the social networking platform Twitter, noting that the tweets "insulted Erdogan's dignity."
It is noteworthy that Erdogan's health had previously been a source of controversy and was circulated by international media, which forced the Turkish presidency to issue clarifications early last month after news of his illness was circulated.
News of his health deteriorating
On the fourth of last October, a report published by "Foreign Policy" magazine pointed to the deterioration of Erdogan's health, and attributed this to local news sites that broadcast online videos, in which Erdogan appeared to have problems, while other speculation indicated that doctors had implanted a device to regulate his heart irregular.
Erdogan appeared in one of the clips, as if he needed the help of his wife while trying to go down a stairs, and appeared in a position unable to move his steps, and was not sufficiently balanced, forcing him to lean on one of his aides, while his wife held his other hand to help him to go down.
In recent months, local news websites circulated videos in which Erdogan appeared to be in trouble, raising questions about his health.