Two Palestinian journalists martyred in Israeli strikes on Gaza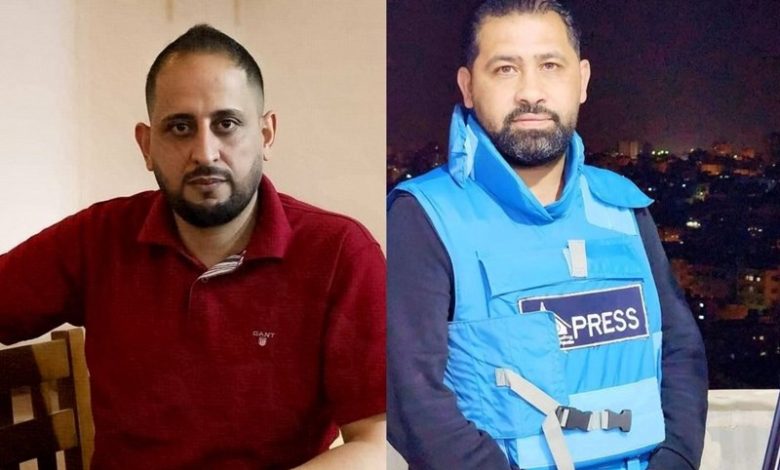 Journalists Saeed Al-Taweel and Mohammad Sobh were martyred as a third journalist was injured in an Israeli bombing that targeted areas in the western Gaza Strip, Al Mayadeen's correspondent reported.
In yet another war crime, Israeli occupation forces target members of the media who are covering its aggression on Gaza.
The injured journalist has been identified as Hisham al-Nwajha. He has suffered severe injuries and is currently undergoing surgical procedures.
Our correspondent previously reported that the Israeli occupation is deliberately targeting journalists covering the ongoing aggression on the Strip.
The two journalists were killed as "Israel" bombed and destroyed a residential building in Western Gaza.
The war crime comes in conjunction with intensified IOF strikes across Gaza, leading to hundreds of deaths and thousands of injuries among civilians.
Specifically, the Palestinian Ministry of Health has stated that 687 Palestinians, including 140 children and 105 women, have been martyred, while 3,726 were injured as a result of deliberate Israeli targeting of civilians in the Strip.
The occupation has targeted residential areas, Mosques, residential buildings, and ambulances.
In the same context, a governmental official in Gaza has stated that the Israeli occupation had collectively murdered 15 families.
Our correspondent highlighted that the bombing witnessed on Monday is by far the harshest since the Israeli occupation launched its bombing campaign on the Strip.
"Israel" tightens its seige on Gaza
In a response to the announcement made by the Israeli security minister Yoav Gallant ordering a full siege of the city, Omar Shakir, Human Rights Watch "Israel" and Palestine Director for Human Rights, posted on X that depriving a population of food and electricity is "collective punishment" and that this is the Israeli occupation's method of utilizing starvation as a weapon of war. 
Gallant, as quoted by GLZ Radio, has ordered to cut off electricity, water, and food from Gaza in the aftermath of Operation Al-Aqsa Flood, which has already left more than 1000 settlers and soldiers dead in one of the deadliest operations on the occupation in decades.
According to the Israeli Energy Minister Israel Katz, all the water supply from "Israel" to Gaza has been cut off. 
Gallant revealed the occupation's true face by referring to the Palestinians in Gaza as "human animals," who he will have to deal with "accordingly".