United Nations Security Council calls for immediate ceasefire in Libya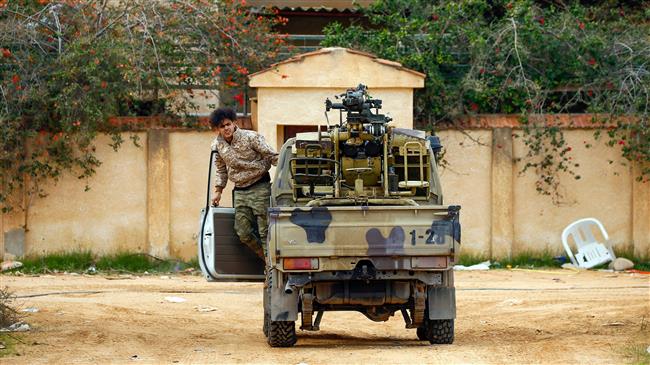 United Nations Security Council has called on warring sides in Libya to conclude a ceasefire agreement "as soon as possible" and pave the way for ending the long-running conflict in the North African country.
The Council made the plea on Tuesday after a summit on the Libyan crisis was held in the German capital of Berlin at weekend, which saw the formation of a military commission that is supposed to define ways of consolidating a cessation of hostilities.
The commission is made up of five members each from the internationally-recognized Government of National (GNA) in Tripoli and the rebel militia groups commanded by renegade General Khalifa Haftar.
"The members of the Security Council urged the Libyan parties to engage constructively in the five + five military commission in order to conclude a ceasefire agreement as soon as possible," the Council said.
Since 2014, Libya has been divided between two rival  camps — the Tripoli-based GNA led by Libyan Prime Minister Fayez al-Sarraj and a camp supported militarily by Haftar's militias in the eastern city of Tobruk.
Libyan renegade general Khalifa Haftar has rejected calls for a ceasefire by Turkey and Russia, insisting that he would continue his offensive against capital Tripoli.
Haftar, who is mainly backed by Saudi Arabia and the United Arab Emirates, launched an offensive in April to capture Tripoli and unseat the UN-recognized government; however, his forces have been bogged down near the capital.
After months of combat, which has killed more than 2,000 people, a ceasefire was agreed to take effect on January 12 but was soon ignored.
On Sunday, leaders from Turkey, Russia, Egypt, France, Italy, Britain and the United States, as well as Sarraj and Haftar, attended the UN-backed summit in Berlin to help establish a "permanent" ceasefire between the warring sides.
Foreign powers have agreed on the need for a
The final communiqué of the day-long summit urged all the parties concerned in the persisting conflict "to redouble their efforts for a sustained suspension of hostilities, de-escalation and a permanent ceasefire."
Furthermore, the participants of the summit pledged not to interfere in Libya's internal affairs and its deadly conflict.
Turkey recently reached a military agreement with the Libyan government to send troops to the North African country and help the GNA defend itself against Haftar's attacks.
The oil-rich country plunged into chaos in 2011, when a popular uprising and a NATO intervention led to the ouster of long-time dictator Muammar Gaddafi and his execution by unruly fighters.
Sarraj's government has been attempting to establish order ever since.