US Congress Delegation Visits Tunisia to Discuss Political Situation with Kais Saied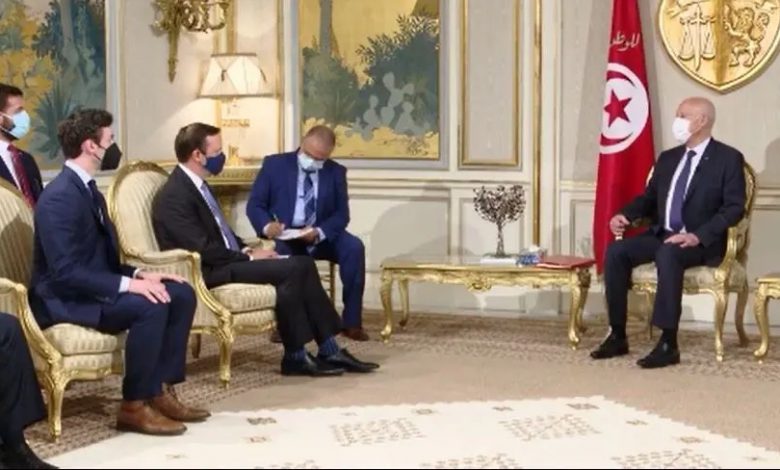 US Senator Chris Murphy is leading a delegation from the US Congress head for Tunisia to discuss the crisis in the country.
The delegation meets with officials and politicians in a scheduled visit to the country today, Saturday.
The Tunisian General Labor Union and two Tunisian parties rejected an invitation to discuss the political crisis with the US Senate delegation visiting Tunisia today, Saturday.
The US delegation will also visit Lebanon, Israel, and the West Bank, according to Tunisian Radio Mosaique FM.
Leaders of these entities affirmed the rejection of foreign interference in the local crisis.
Sami Taheri, a spokesman for the Tunisian General Labor Union, said that   Tunisian affairs should be resolved among Tunisians, and the Tunisian General Labor Union will refrain from responding to the invitation of the American embassy.
He added that the Tunisian General Labor Union did not accept the bullying of foreigners under the rule of former President Zinedine Ben Ali and that "it will not accept it today and tomorrow.
It is worth noting that on July 25, the Tunisian president decided to dismiss the prime minister, freeze parliament and seize the executive authority in a sudden intervention that opponents from the Islamists described as a coup.
The Free Constitutional Party led by Abeer Moussa, which supports President Kais Saied, also refused to meet with the American delegation.
The president's steps have broad support after years of economic stagnation and political paralysis.
However,  US Embassy in Tunisia stated that it affirms its respect for the close relations between Tunisia and the United States.
The embassy tweeted that the official delegation that met Tunisian President Kais Saied, on August 13th, consisted of high-ranking US officials representing the White House and the US State Department.
On the other hand, Minister of Foreign Affairs, Immigration, and Tunisians Abroad Othman Al-Jarandi expressed his country's aspiration to further strengthen cooperation frameworks with the United States of America  (USA) at the bilateral and multilateral levels and to give a new impetus to the strategic partnership that unites the two countries.
This came during his meeting with Donald Bloom, US ambassador to Tunisia, at the Tunisian Foreign Ministry.
And the meeting discussed preparations for the US congressional delegation's visit to Tunisia on 4 and 5 September.